News
Jerusalem, Doha, Tehran… Diplomatic effervescence around the Iranian nuclear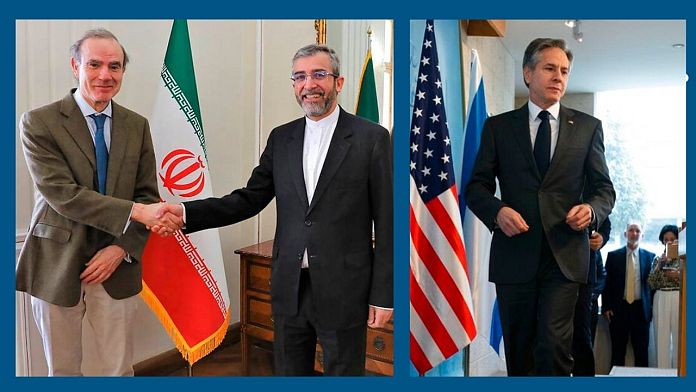 The head of American diplomacy in Israel, the European negotiator in Tehran… Intense diplomatic activity this Sunday around the Iranian nuclear issue.
The head of the American diplomacy, Anthony Blinkenvisiting Israel, tried this Sunday to reassure the leaders of the Jewish state, worried about the prospect of an agreement on the Iranian nuclear.
The agreement in question is in fact that of 2015, which framed the Iranian nuclear program in exchange for the lifting of sanctions. A text emptied of its substance since Donald Trump's about-face in 2018.
Speaking alongside the Israeli Prime Minister Yair Lapidthe US Secretary of State said that the United States and Israel are "both determined that Iran will never acquire nuclear weapons."
"The United States believes that a return to full implementation of the Joint Comprehensive Plan of Action is the best way to put Iran's nuclear program back in the box it was in but has escaped since the United States withdrew from this agreement", added Antony Blinken.
What is still blocking discussions between Iranians and Westerners is in particular the question of sanctions against the Revolutionary Guardsthe ideological arm of the regime.
Washington wants to maintain sanctions against them, including in the event of an agreement.
Out of the question, answers Tehran. This was explained Sayyid Kamal Kharrazi, former Iranian Foreign Minister. He was speaking from Doha in Qatar where a regional forum was being held.
"It should be understood that the Islamic Revolutionary Guard Corps is a national army. And an army cannot be considered a terrorist group. It is not conceivable, not acceptable. This is a very important point for the Iranians."
For his part, the European Union coordinator responsible for overseeing the Iranian nuclear talks, Enrique Moraarrived this Sunday in Tehran.
"We must conclude this negotiation. The stakes are high," tweeted the European diplomat on Saturday, indicating that he was deploying efforts "to close the remaining gaps" between the positions of the stakeholders.
I'vienna agreement disintegrated after Washington's unilateral withdrawal in 2018, decided by then President Donald Trump, reinstating sanctions against Iran, which in response gradually freed itself from the limits imposed on its nuclear program.
The head of European diplomacy Joseph Borrell felt on Saturday that reaching a deal was a "matter of days".