News
Jens Stoltenberg: "We don't cause conflict, we prevent it"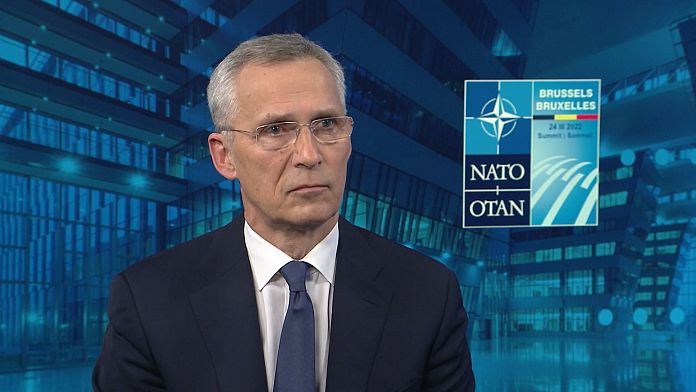 The Secretary General of NATO talks about the efforts of the countries of the alliance to come to the aid of Ukraine, invaded by Russia. He also talks about the strengthening of the eastern part of NATO and the activation of CBRN – the joint chemical, biological, radiological and nuclear defense task force.
Meabh McMahon, euronews:
This week we have seen a massive show of NATO unity. Will this help stop the war in Ukraine?
Jens Stoltenberg, NATO Secretary General:
Yes, that will help. And in fact, it is already helping by providing support to Ukraine. I think President Putin has really underestimated the unity and strength of NATO, the European Union and all of us who believe in democracy, the rule of law and the rules-based international order. Because we stand together by imposing unprecedented sanctions on Russia, but also by supporting Ukraine, which helps it resist the invasion of Russian forces.
Meabh McMahon:
Is President Putin a war criminal?
Jens Stoltenberg:
What we have seen is that civilians have been attacked, civilian infrastructure has been attacked, schools, hospitals. Any deliberate attack on civilian infrastructure or civilians is a war crime. This is why I think it is extremely important that the International Criminal Court has opened an investigation and that those responsible are held to account. And that only underlines and highlights the importance of ending this war. And to end this war quickly, by withdrawing troops and engaging in good faith diplomatic efforts.
Meabh McMahon:
And this week, of course, it was all about showing support for the Ukrainians. President Zelensky joined the meeting by videoconference. He said he wanted 1% of NATO weapons. Is it doable?
Jens Stoltenberg:
What is doable is for NATO allies to do whatever they can to provide support: financial support, humanitarian support, but also military support. And we supply Ukraine with advanced anti-tank weapons, air defense systems. We must also remember that the NATO allies trained the Ukrainian army for many years, tens of thousands of soldiers who are now on the front line. The Ukrainian army is therefore much better equipped, much better trained and much stronger today than in 2014, when Russia first invaded Ukraine. Above all, it is the courage of the defense forces of the Ukrainian army that makes the difference on the battlefield. But the support of NATO allies is a crucial factor in enabling them to resist the invasion of Russian forces. And we can see the effect of the weapons and the support that we have provided.
Meabh McMahon:
This week, NATO announced that it would activate CBRN – the Joint Chemical, Biological, Radiological and Nuclear Defense Task Force. How important is that? Should we be worried?
Jens Stoltenberg:
Well, we are worried. But at the same time, we send a message to Russia: any use of chemical, biological or nuclear weapons will fundamentally change the nature of the conflict. This will be a flagrant violation of international law and the consequences will be far-reaching. So it's something very serious. And that is also another reason why this war must end. Because it is a dangerous war. This is the most serious security crisis we have seen in decades and that is why we are imposing sanctions on Russia. We support Ukraine. But we are also increasing the readiness and presence of NATO troops in the eastern part of the alliance.
Meabh McMahon:
And this CBRN task force, would it be able to protect Ukraine and of course the NATO allies from a possible chemical attack?
Jens Stoltenberg:
Well, our military commanders have taken certain measures to protect NATO forces and we have more NATO forces in the eastern part of the alliance. We also have capabilities to help civil authorities manage chemical or biological weapons and their effects. And then we provide some support to Ukraine with regard to protective equipment and other means of protecting against chemical or biological weapons.
Meabh McMahon:
And all this, of course, will cost money. And we have seen that NATO members are now putting their hands in their pockets. They put money on the table, like the Belgians who said they were going to spend a billion euros on defense spending. How much will all this cost taxpayers? Because it looks like this war could go on for a while.
Jens Stoltenberg:
Our security is not free and we have seen in recent years, especially since 2014, tensions increase. We have seen Russia use force against Ukraine: first the illegal annexation of Crimea, then the destabilization of the eastern part of Ukraine, the Donbass, and now the invasion of all of Ukraine. And Russia is also threatening us: it is asking NATO to withdraw all its infrastructure and all its forces from the eastern part of the alliance. We therefore need to invest more in our security. The good news is that this is exactly what NATO allies are doing. We made the decision in April 2014 to increase defense spending. Since then, all NATO allies have done so. We have added an additional €250 billion in total for defence, and that has made us stronger and we see that we have more capability, more preparedness. And that's also a reason why we've been able to deploy a lot more troops in the eastern part of the alliance and more ships and planes in the air, to make sure there's no room for a misunderstanding in Moscow when it comes to NATO's desire to protect all allies on the basis of NATO's fundamental principle: one for all, all for one. An attack on an ally would trigger a response from the entire alliance. By doing so, we are not causing conflict, but preventing it.
Meabh McMahon:
Finally, a short question. President Biden was here this week and he proposed that you stay on for another year when you were to take over as head of the Norwegian central bank. How do you see things? Are you ready for another year?
Jens Stoltenberg:
I feel very privileged that I have been asked to continue to be the Secretary General of NATO, especially now, in the midst of an extremely serious security crisis, and that I have been asked to continue to ensure that we remain united. The unity that was demonstrated at this week's meeting, the NATO summit, is something that inspires me to continue to focus fully on my job as NATO Secretary General.