News
Japan denounces North Korean missile launch 150km from Hokkaido island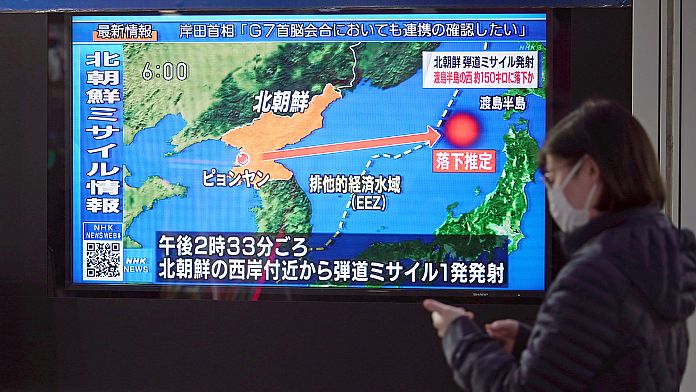 North Korea fired an intercontinental ballistic missile (ICBM) on Thursday that arrived in Japan's exclusive economic maritime zone, breaking a moratorium it had observed since 2017 on this type of weapon test, at the risk of triggering a dramatic rise in tensions in the region.
South Korean President Moon Jae-in confirmed in a statement that the projectile launched by Pyongyang towards the Sea of ​​Japan was an ICBM.
This is "a break from the suspension of intercontinental ballistic missile launches promised by President Kim Jong Un to the international community", he lamented.
The South Korean military said it immediately responded by firing "missiles from the ground, sea and air" off its coast.
Japanese Prime Minister Fumio Kishida denounced "a scandalous and unforgivable act". The North Korean regime "threatens the peace and security of Japan, the region and the international community", he said from Brussels, where he is for a G7 summit.
Condemning "strongly" the new shooting, the White House assured that the United States would take "all necessary measures to ensure the security of the American territory, South Korea and Japan".
The new firing demonstrates that North Korea "continues to prioritize its weapons of mass destruction and ballistic missile programs over the well-being of its people," said White House spokeswoman Jen PSAKI, in a statement.
Japanese Foreign Minister Yoshimasa Hayashi and US Secretary of State Antony Blinken "strongly condemned" the shooting in a telephone conversation Thursday evening, according to a statement from the Tokyo Foreign Ministry.
UN resolutions prohibit North Korea, hit by heavy international sanctions for its nuclear and weapons programs, from testing ballistic missiles. This has not prevented Pyongyang from carrying out a dozen tests of this type of weapon since the beginning of the year.
But it was not until now intercontinental missiles, even if Washington and Seoul suspect the North Korean regime of having tested certain ICBM systems during these launches.
Pyongyang had carried out three ICBM launches in 2017. The device then tested, the Hwasong-15, was capable of reaching the United States.
"Our analyzes indicate that the ballistic missile flew for 71 minutes and fell at around 3:44 p.m. (0644 GMT) in the exclusive economic zone, in the Sea of ​​Japan, about 150 km west of the Oshima peninsula "in the northern island of Hokkaido, said the number two of the Japanese Ministry of Defense, Makoto Oniki.
"Since the ballistic missile this time flew at an altitude of more than 6,000 km, which was much higher than the Hwasong-15 ICBM which was launched in November 2017, it is believed that today's Today is a new ICBM," he added.
– Failed last week –
According to Seoul, a missile test by North Korea on March 16 ended in failure, with the projectile exploding in the sky over Pyongyang shortly after being launched from Sunan airport, north of China. capital city. The regime has kept silent about this event.
"Pyongyang tried to launch an ICBM at Sunan airport last week but failed," Go Myong-hyun, a researcher at the Asan Institute of Policy Studies, told AFP. "So he led today's launch to make up for this failure and because he needs to master ICBM technologies as soon as possible."
Many analysts expected Pyongyang, which will celebrate the 110th birth anniversary of Kim Il Sung, the country's founder and grandfather of Kim Jong Un, on April 15, to put on a show of force to mark this party, the most important of the North Korean political calendar.
"Kim Jong Un considers it very important to prove himself a capable leader before Kim Il Sung's 110th birthday, especially to his own people," said Cheong Seong-chang, from the Center for North Korean Studies. Sejong Institute.
Kim Jong Un said last year that improving the country's military capabilities was a priority for the regime.
Priority among priorities: developing an ICBM capable of carrying several conventional or nuclear warheads, each following an independent trajectory, difficult to intercept by anti-missile systems.
This missile, the Hwasong-17, has been dubbed the "monster missile" by military analysts. It was shown during a parade in Pyongyang in October 2020. It is not known at this stage whether it was this missile that was tested on Thursday.
"Kim probably feels that now is the perfect time to develop ICBMs, and to remind the world emphatically that the North, unlike Ukraine, is a nuclear-armed country," he told Reuters. AFP Ahn Chan-il, an analyst specializing in North Korea.
The test also comes as South Korea is in a period of presidential transition, with outgoing head of state Moon Jae-in set to hand over his chair in May to conservative Yoon Suk-yeol, who was elected earlier this month and has promised to adopt a harder line in the face of provocations from the North.