[ad_1]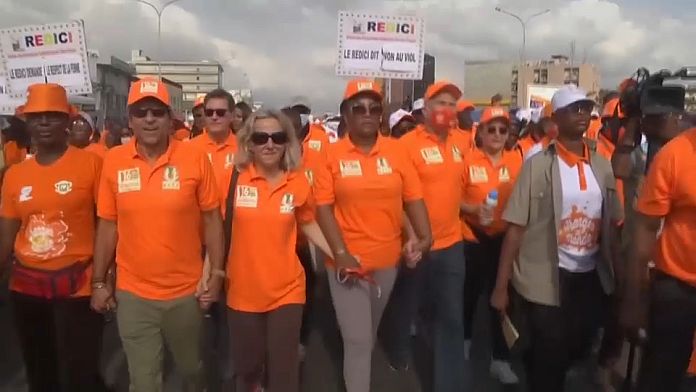 Several hundred people demonstrated in Abidjan on Saturday against violence against women in Côte d'Ivoire where more than 800 rapes were officially recorded in 2020.
Dubbed the "Orange Offensive", more than 2,000 people from all over the Ivorian economic capital denounced "rape, a weapon of mass destruction whose collateral effects extend to several lives and to many generations". Dressed in orange T-shirts, the women organized a two-kilometer march in the working-class district of Treichville, holding up signs that read ":" Rape is a crime, let's denounce "or" Zero rape in my country. ".
"Rape actors are hot!"declared the Ivorian Minister of the Family, Women and Children, Nasseneba Touré, who had the EU Ambassador to Côte d'Ivoire, Jobst von Kirchmann, at her side at the head of the demonstration, and the representative of the UN-Woman, Ms. Antonia N'Gabala Sodonon.
In Côte d'Ivoire, 625 rapes were perpetrated from January to October in 2021. 822 cases of rape were recorded in 2020 against 693 the previous year, according to figures from the Ministry of the Family, women. Nearly 2,500 cases of violence against women were recorded in 2019 and 2020 in the city of Abidjan alone, according to an NGO study released at the end of November.
"Silence remains the norm"
"Girls and young girls are much more exposed to violence, especially forced marriages," according to this survey by the Organization of Citizens for the Promotion and Defense of the Rights of Children, Women and Minorities (CPDEFM).
She specifies that 1,290 forced marriages of girls under 18 and 1,121 rapes were recorded in 2019 and 2020 in the only Ivorian economic capital where there were also 416 feminicides over the same period. This survey relates only to Abidjan, a city of approximately five million inhabitants.
According to Malamita Ouattara, member of the Collectif des activistes de Côte d'Ivoire (CACI), "silence remains the norm"and the victims"are quicker to express themselves when they are placed in the position of witness", reason why his organization pleads for"medical and legal assistance to victims".
At the end of August, the broadcast on a private television channel of a program during which the host invited a former rapist to explain how he went about abusing his victims, had aroused indignation in Côte ivory. This host was sentenced shortly after by an Abidjan court to a 12-month suspended prison sentence for "apologizing for rape" and "indecent exposure".
[ad_2]

Source link