News
Italy: tensions between anti-pass protesters and police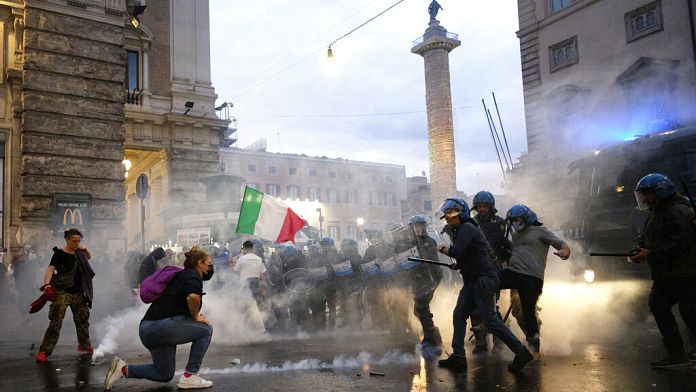 From October 15, they will have to comply with the rule. The already mandatory sanitary pass for museums or restaurants will be required at the workplace of Italians. Several thousand people marched this Saturday in the center of Rome to protest against this extension of the pass.
Tension has risen a notch between riot police and protesters in Rome"s leading the use of water cannons and tear gas. They first organized a noisy but allowed demonstration on Saturday in Piazza Del Popolo. Then they began to clash with law enforcement on an unauthorized march.
Some protesters, armed with sticks and metal bars, made their way into the headquarters of a left-wing trade union, and ransacked its office. The main Italian trade union federations supported the requirement of the "green pass" as a way to keep factories and other workplaces safe during the pandemic, which hit the Italian economy. Police also had to prevent a small group of protesters from reaching Prime Minister Mario Draghi's office.
Other demonstrations against the sanitary pass also took place this Saturday in Italy: a second in Rome, another in Milan (north) or Cesena (center). According to figures from the Ministry of Health, almost 80% of the Italian population over the age of 12 is fully vaccinated.
Source link