News
Israel: At least five dead in attacks near Tel Aviv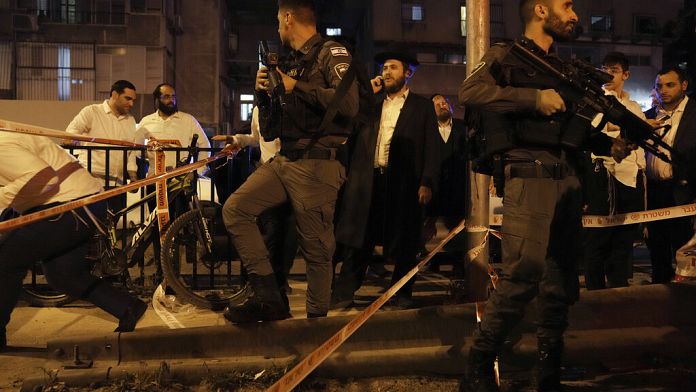 At least five people were killed Tuesday in armed attacks near the Israeli metropolis of Tel Aviv, the third in a week in Israel, confronted with a wave of violence that worries the authorities at the approach of large rallies on the sidelines of the Ramadan celebrations.
In the evening, residents of Bnei Brak, an ultra-Orthodox town on the outskirts of Tel Aviv, then of the neighboring town of Ramat Gan, reported a man driving in a car and opening fire on passers-by.
"It's sad and scary, it had never happened in Bnei Brak. It is not possible that in less than a week we have eleven dead in three different cities", told AFP Shira, a 25-year-old waitress living in this city.
Police said they shot the assailant without revealing his identity. But local media identified him as Dia Hamarshah, a Palestinian who had spent four years in Israeli prisons and hailed from Yaabad in the occupied West Bank. In Yaabad, witnesses told AFP that men distributed sweets in the evening as a "celebration" after the attacks.
Palestinian President Mahmoud Abbas condemned the violence. "The killing of Palestinian and Israeli civilians only aggravates the situation further as we all strive for stability", he said in a statement.
Israeli Prime Minister Naftali Bennett gathered senior security officials in the evening after the attacks, which killed at least five people, including a 32-year-old officer, Amir Khoury, an Israeli Arab who participated in the operation to kill the assailant. and called "hero" by the police.
"Security forces are at work. We will fight terrorism with an iron fist…Israel is facing a wave of deadly Arab terrorism", said Mr. Bennett. The two previous attacks, on March 22 and Sunday, were perpetrated by Israeli Arabs linked to the jihadist movement.
"Counter-terrorism" mode
In the aftermath, the Israeli police said they were in "counter terrorism"and the army has deployed reinforcements in the occupied West Bank, a recurring scene of clashes.
Responding to the unclaimed attacks on Tuesday night, the Gaza-ruling Palestinian Islamist movement Hamas, a rival to Mahmoud Abbas's secular Fatah, said in a statement that "this operation (was) a natural response to the crimes of the occupation against the rights of our people and our land and our holy places".
Sunday in Hadera, in the north of Israel, two police officers, including a Franco-Israeli, were killed in a shooting claimed by the jihadist organization Islamic State (IS).
Hamas then judged that the attack had been "carried out in response to the normalization summit on our land", in reference to an unprecedented meeting organized on Sunday and Monday on Israeli soil between heads of diplomacy American, Israeli and four Arab countries.
Israeli police identified the assailants who were shot as Israeli Arab IS operatives from Umm al-Fahm, an Arab town in northern Israel.
On March 22, in Beersheva (south), four Israelis – two men and two women – were killed in a stabbing and car-ramming attack perpetrated by a teacher sentenced in 2016 to four years in prison for planning to travel to Syria to fight for ISIS.
Reduce tension
Abroad, Germany warned of a "spiral of violence", while the head of American diplomacy Antony Blinken said "strongly" condemn this "terrorist" attack.
White House national security adviser Jake Sullivan said Washington had offered "all necessary support" to the Israeli government.
These attacks come at a time when meetings are increasing in an attempt to ease tensions as Ramadan approaches, the month of Muslim fasting which is due to begin at the end of the week.
In 2021, clashes between Israeli forces and Palestinian demonstrators during Ramadan in Jerusalem, notably on the esplanade of the Mosques, a Muslim holy place under the administration of Jordan, led to a deadly 11-day war between Hamas, in power in Gaza, and the Israeli army.
Seeking to ease the situation during Ramadan, Israeli Defense Minister Benny Gantz held talks with Jordanian King Abdullah II in Amman on Tuesday, ahead of a similar visit on Wednesday by Israeli President Isaac Herzog.
In front of Mr. Gantz, the king called "to remove any obstacle to the prayer of Muslims on the esplanade of the Mosques (in East Jerusalem) and to prevent provocations which could lead to an escalation".