News
Iran: Fighter plane crashed into a school in Tabriz, three people died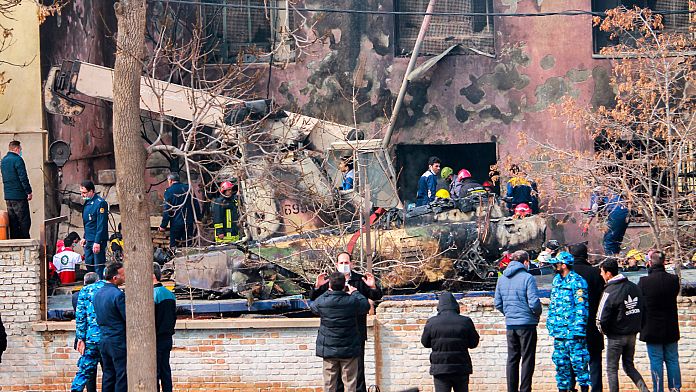 A fighter jet crashed in a residential area of ​​the city of Tabriz in northwestern Iran on Monday, killing three people, authorities said as they announced the opening of an investigation.
The head of the Red Crescent in Tabriz said the aircraft hit the wall of a school, killing the two crew members and a resident.
It is an F-5 training plane, which crashed around 09:00 (0530 GMT) in Monajem, a district in the center of Tabriz, said the director of the center of crisis management in the province Azerbaijan -Oriental, Mohammad-Bagher Honarvar, on the website of the state television.
"Fortunately, the school was closed due to the Covid-19 pandemic", he specified.
Technical problem
The aircraft belonged to Shahid Fakouri Air Base in Tabriz and was on a training mission at the time of the crash, the base commander said on television.
A technical problem occurred in the plane while returning from its mission, and the pilot was unable to reach the landing strip, he added, without further details.
"The two pilots could have ejected but they sacrificed themselves to lead the aircraft to an isolated area", he said again.
The official Irna agency published a short video showing firefighters putting out the fire at the crash site.
Several plane crashes in Iran
The Iranian Air Force has some 300 Russian (MiG-29 and Su-25), Chinese (F-7), American (F-4, F-5 and F-14) and French (Mirage F1) combat aircraft. ), as well as some "Saeqeh", an Iranian version of the American F-5. But only some of these devices are actually operational, according to experts.
In recent years, local media have reported the downing of several fighter jets in various parts of the country.
In December 2019, state media reported the downing of an Iranian MiG-29 near an inactive volcano in the northwest of the country. The army confirmed the death of its pilot after three days of searching the area.
An Iranian Air Force F-4 crashed in July 2014 during training in southern Iran, killing the two servicemen who were on board, according to the agency. Irna.
In September 2011, a fighter jet crashed without causing any casualties in Tabriz, where the air force was carrying out military maneuvers, local media reported.
Visiting Moscow in October 2021, the Chief of Staff of the Iranian Armed Forces, General Mohammad Bagheri, had mentioned his "discussions with the Russians for the implementation of the contracts concluded between the two countries in order to purchase combat and training aircraft".