News
Iran claims attack on Israeli 'strategic center' in Iraqi Kurdistan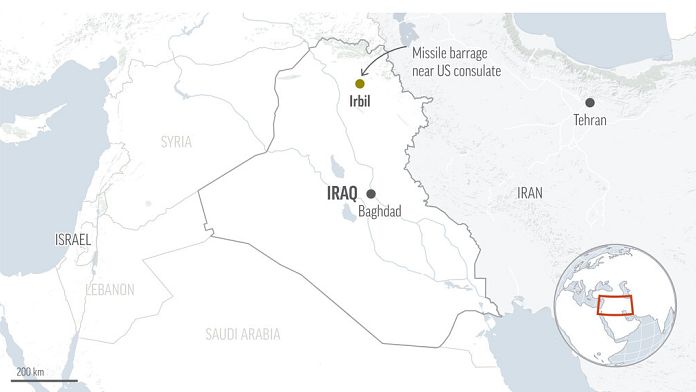 Paris condemned "with the greatest firmness" the missile attacks on Erbil, in Iraqi Kurdistan, on the night of Saturday to Sunday, considering that they threatened the stability of the entire region.
This attack "threatens the stability of Iraq and the region"according to a press release from the French Ministry of Foreign Affairs, which recalls its "attachment to the sovereignty of Iraq, as well as to its stability and that of the Autonomous Region of Kurdistan within it".
The Revolutionary Guards, the ideological army of the Islamic Republic of Iran, claimed responsibility for the missile fire on Erbil on Sunday, claiming to have targeted an Israeli "strategic center" and threatening the Jewish state with new "destructive" operations.
The authorities of Iraqi Kurdistan (north) had previously indicated that "12 ballistic missiles" fired "outside the borders of Iraq, and more precisely from the East", had targeted the American consulate in Erbil on Sunday, without causing any casualties.
Sunday's attack also comes as negotiations to revive the 2015 Iranian nuclear deal in Vienna (known as the JCPOA) were abruptly suspended, following new demands from Moscow.
"Such actions jeopardize efforts to enable a return to the JCPOA to which Iran is otherwise contributing"estimates the French press release. "There is an absolute urgency to conclude the negotiations that began almost a year ago and to put an end to such irresponsible and dangerous behavior".
Concluded by Iran on one side, and the United States, China, France, the United Kingdom, Russia and Germany on the other, this pact was supposed to prevent Tehran from acquiring the bomb atomic in exchange for the lifting of the sanctions which are suffocating its economy.
But it crumbled in 2018 after Washington pulled out, reinstating its measures against Iran. In response, Tehran gradually freed itself from the limits imposed on its nuclear program.