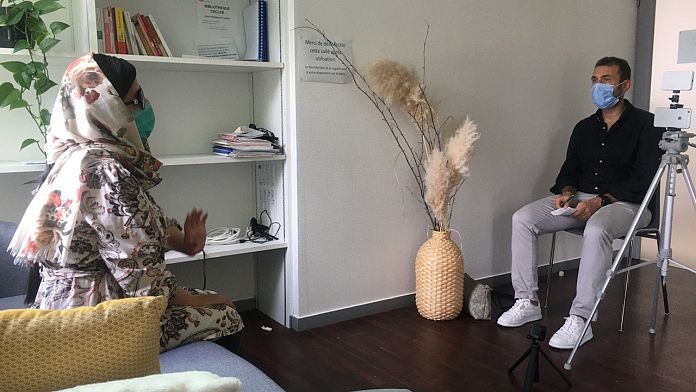 It was on condition of anonymity that Atéfé (assumed name) agreed to give himself up to Euronews". This 26-year-old Afghan journalist has been a refugee in Clermont-Ferrand for a fortnight, after fleeing her country.
Veil on her head and sunglasses on her nose, the young woman agreed to describe her journey to Kabul airport. In front of our camera, Atéfé also decided to keep his surgical mask to avoid reprisals that could be suffered by his family, who remained in Afghanistan.
Tyrant
She was only six years old, when the United States launched the war to "liberate" the country from the Taliban. Twenty years later, it is these same "tyrants", as she calls them, who are driving her to flee.
The young woman managed to leave the country a day before the deadly attacks on Kabul airport, claimed by the Islamic State.
Contacted by the French embassy, " we got on a bus and were told to go see the French military at the airport," she says. "But it was a real journey to get there," she recalls.
"The airport had been surrounded by the Taliban. We finally managed to get in through the back door, there were fewer Taliban there, " she explains. Then, " it took three days to wait in the airport before we could talk to a French officer and present him with the documents," she said.
When the plane finally took off the young woman says she was crossed by conflicting feelings. "I was happy, I was finally safe" but "I was thinking about my family, my friends".
"Why do I have to leave my country, leave my city, my entourage ? Everyone loves their country, where they received their education, where they were born, where they were raised," she laments.
A dark future
Before the Taliban arrived, Kabul was already a volatile city, with "daily explosions", she says.
"When I came out of the house, my mother would call me several times" to get news. "Even before the Taliban, it was difficult for a woman to work or express herself freely in society," she says.
However, the future of Afghanistan is, more than ever, "obscure" according to Atéfé. The young woman, who is part of a group of fifty Afghans welcomed by the CeCler association, managed to join her husband, who has been a refugee in France for four years.
On the spot, the arrival of these refugees has instilled an impetus of solidarity among the French who send many messages to the association to provide their help, as noted by the general director of CeCler, Dominique Charmeil.
"There is a strong mobilization because what is happening has affected the French, civil society," she notes.