News
India hit by heatwave linked to climate change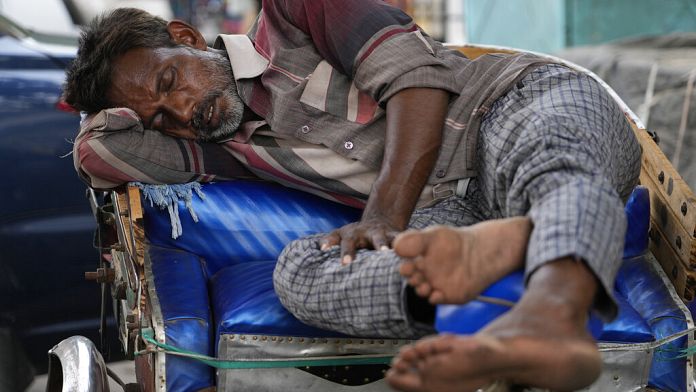 India continues to be battered by a record-breaking heatwave that started two months ago and which experts link to climate change.
Temperatures reached 43.5°C this Friday in the Indian megalopolis of New Delhi.
The situation experienced by India once again attests to the climate emergency that the country and more broadly the world are facing.
"It's so hot that the vegetables rot. We don't have enough water here. Even when we water the vegetables, they rot"testifies a salesman.
"I have a fan at home but no electricity. The power is constantly cut off and comes back on after several days. I also have no drinking water at home. The water is dirty and makes us sick"explains another resident of New Delhi.
The heat is affecting the harvest season, which started unusually early this year.
"Because of the heat wave, our crops have suffered"underlines Suresh Singh who is a farmer. "With the sudden increase in temperature, the water table has dropped and the high heat has decimated the yield of our crops by half."
India recorded its hottest March in 122 years this year. Scientists say that due to climate change, heat waves are more frequent but also more severe.
"Kolkata in the grip of the longest drought of this millennium"
HAS Kolkatain eastern India, after a series of illnesses in public transport, sugar water was distributed to passengers.
"Without rain for more than 57 days, Kolkata is in the grip of the longest drought in this millennium"asserts Sanjit Bandyopadhyay from the Regional Meteorological Center.
At this time of year, in the highlands of the state ofHimachal Pradeshrain, hail and even snow falls normally but for two months, not a drop of water and temperatures are breaking records.
As a result, hundreds of fires have reduced pine forests to ashes, especially around Dharamshalathe city where the Dalai Lama.
"Most of these fires are ground fires that spread through pine forests, the most vulnerable to fires"explains to AFP the head of the state forests, Ajay Srivastava.
"Fire crews are working hard to put out these fires and also to save wild animals"he added, specifying that the emergency services had to ask for help from the local residents.