Soccer
Incidents, Sainthood incurs a heavy penalty
It' ASSE certainly snatched an unexpected draw against Angers SCO (2-2), but the Ligerian club exposed itself to a sanction of the LFP for the behavior of its supporters.
The ASSE snatches a valuable point, but…
Disgruntled with their team, Friday night, ASSE fans threw smoke bombs on the stands and on the pitch, before the start of the match against Angers SCO, thus creating an atmosphere of insecurity in Geoffroy-Guichard's enclosure. Consequence? The meeting started an hour late and was disrupted afterwards. Finally, theAS Saint-Étienne and the Angevins neutralized themselves (2-2). Led (2-0, 56e), the Greens drew their last resource to repeat their delay. They got the equalizer through the young Mickaël Nadé in extra time (90e+4). Wahbi Khazri had first reduced the score (1-2, 61e).
Given the big pressure on Claude Puel and his players and the incidents before the kick-off of the match, we can say that the ASSE gets away with good, with a precious point that keeps the coach still suspended. However, the Ligerian club could be punished heavily for the action of its supporters who used pyrotechnics. It should be noted that it was the prefect who authorized the continuation of the match, otherwise "for the LFP, the conditions for a safe resumption were not met" according to RMC Sport.
"The LFP is already thinking about sanctions" against the Greens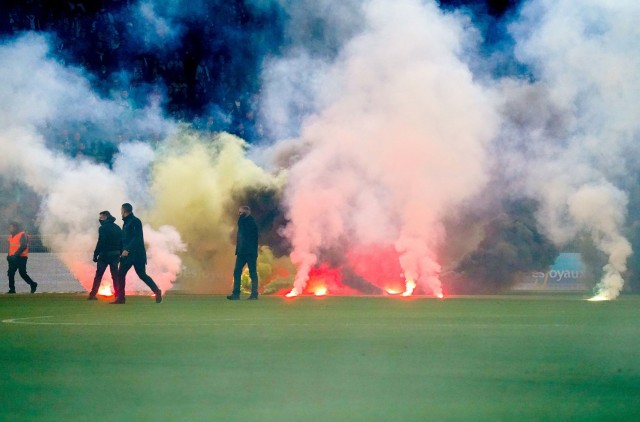 According to media reports, "the LFP is already thinking about sanctions for the incidents that occurred this Friday between the ASSE and the SCO". The source says that "this file will be discussed as early as Wednesday in disciplinary committee". The radio understands that based on the observation of the League, the Greens could be punished heavily. "The instance was afraid lately of the return to the stages of the so-called "festive" pyrotechnics. But she notes that the one at the Geoffroy-Guichard Stadium was exclusively 'hostile'," she announced.