News
In this psychiatric hospital in Kyiv, caregivers and volunteers organize themselves to provide care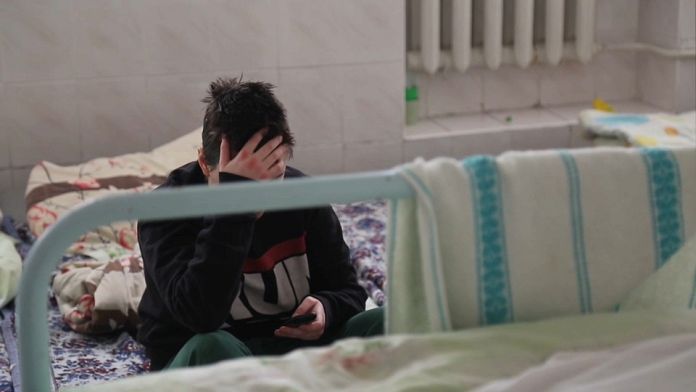 The war in Ukraine has upended thousands of lives, especially in this psychiatric hospital in Kyiv, where more than 1,000 patients are waiting for the war to end.
Many of them come from other parts of the country targeted by Russian strikes, so the facility is overcrowded. Some medications are running out, such as antidepressants and neuroleptics. But help is organized, thanks to social networks and everyone's goodwill.
"On our social networks, we post lists of what we need, for example diapers, water, and things like that" explains the deputy director of the hospital Dmytro Lebedev.
"Many voluntary organizations help us, sometimes without being asked. For example, restaurants send food, some send bread, a person has a car full of apples"he adds.
Some caregivers have moved into the hospital with their families, to be able to stay with patients 24 hours a day, 7 days a week. The number of volunteers has also increased to help caregivers.
Two people volunteered to cut the patients' hair.
"It's a way to participate in the collective effort, like a prayer for Ukraine"explains one of the volunteers, in his thirties.
"I remember Saint Francis washing people and eating with them. I try to pray with all parts of my body" he said.
The director of the establishment Vyacheslav Mishyev, also prays that the past does not repeat itself. Under the sound of sirens, he shows us the medical facility where, during the Nazi occupation of Ukraine, hundreds of patients were murdered by German soldiers. Some were executed there, others gassed in hospital rooms.
"We spent so much time analyzing and studying World War I, World War II" he confides, resigned.
"There are so many messages that are moral and ethical: "we shouldn't let this happen again", "we should learn from our experience", "we should become the best version of ourselves"… in my opinion , unfortunately, man, and humanity in general, does not become better. History repeats itself again and again and again. And it's very bitter" he concludes.
Report by our special correspondent in Kyiv, Anelise Borges.