News
In the WTA tournament in Lyon, Dayana Yastremska plays and wins for Ukraine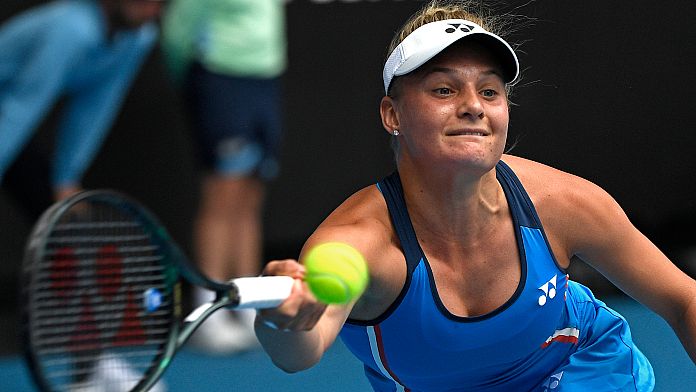 The blue and yellow flag on the shoulders, Dayana Yastremska made a new remarkable entrance on Friday on the central court of the Palais des Sports de Gerland in Lyon. Less than a week ago, the Ukrainian player fled Odessa with her 15-year-old sister, leaving her parents alone in the country.
"It was very hard and painful because you don't know when you're going to see your parents again" explains the 21-year-old player to the Euronews journalist, Francisco Marques."It's still hard today to think back to that moment when we got on the boat while our parents stayed on the dock. It's very emotional."
A few days later, Dayana Yastremska obtained with his younger sister, Ivanka, an invitation to play doubles in the Lyon tournament. The two Ukrainians were eliminated from the start by the Spanish-Swiss pair composed of Goergina Garcia Perez and Xenia Knoll. But their minds were still occupied with the plight of their country and worry about the fate of their parents.
"Today the Russians are in Odessa. My dad told me it was going well, everything was under control, but I think he's just saying that to reassure me."
Dayana Yastremska managed despite everything to carve her way into the singles table of the French tournament. In Lyon, the 83rd player in the world successively eliminated Romanian Ana Bogdan and Spaniard Cristina Busça.
"I was a little more relaxed although I still feel touched inside. I'm happy to have won but that doesn't take away my sadness. The victory today made me feel good. I won for my country and I'm proud of Ukraine and our people."
After another victory on Friday in the quarter-finals over the Italian Jasmine Paolini (6-4 7-6), Dayana Yastremska will play her place in the final this Saturday against the number 2 seed, the Romanian Sorana Cirstea always keeping in mind the desire to carry the colors of his country high.
"I am proud that they are fighting for our life there, for a free Ukraine. A big thank you to them, to the people who survive and really fight for the country and for every city in Ukraine, for all women and children, for Ukraine to be free. Great respect for our people. They are heroes."