News
In the trenches of Donbass, these soldiers accuse Putin of wanting to destroy Ukraine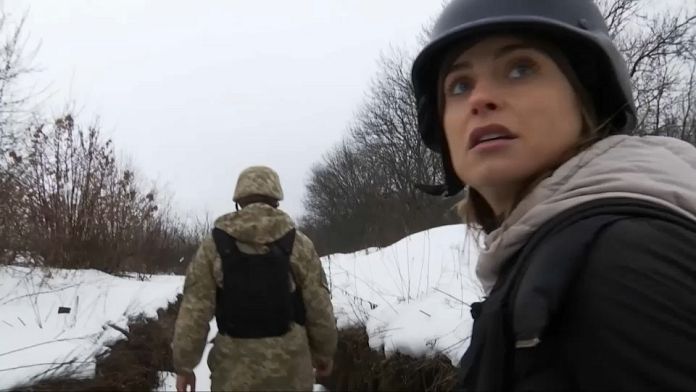 While diplomatic negotiations are underway to try to ease tensions on the Ukrainian question, the Donbass region is subject to a trench warfare that has been going on for eight years.
In Popasna, our journalist Anelise Borges met members of a Ukrainian battalion that is facing pro-Russian separatist forces.
Putin wants "create a new USSR"
"It's a very exposed trench…it should be much deeper!"says a soldier who accompanies us, proof that the threat of small arms is very present here.
In these trenches covered with a blanket of snow, Vlad, 22, explains to us that he came here "because the war has begun", emphasizing that it was a duty of "defend" his country.
This is the second time he has mobilized since the start of the conflict in the Donbass region, but nothing predestined him to take up arms.
Before the separatists did not take control of these territories in 2014, Vlad dreamed of studying medicine to become a cardiologist. But the threat of seeing Ukraine "destroyed" in case of defeat pushed him to take the plunge.
"The Russian Federation, uh no, Putin", he corrects himself, "wants to create a new USSR, it's terrible"he warns.
Moscow denies wanting to launch an offensive
After eight years and more than 14,000 casualties, this war seems to be at an impasse. But skirmishes and bombings continue. According to the soldiers on the spot, the military aid sent to Ukraine has not yet arrived.
According to information from Kiev, 35,000 rebels are stationed on the other side, supported by 20,000 Russian troops on the ground, which Moscow denies.
Russia also asserts that it does not wish to invade Ukraine, despite the 120,000 men present at the border.
"I hope sanctions can stop this war. But the Russian Federation does not know this word. They only know strength and war"deplores Vlad, who nevertheless wishes to see a diplomatic solution to this conflict.
"I think if our country stays united, we can compete with the Russian Federationhe hopes, as his battalion prepares for any eventuality.
Reporting by Anelise Borges from Popasna in eastern Ukraine for Euronews.