News
In the heart of the Donbass: the inhabitants have suffered the consequences of the war for eight years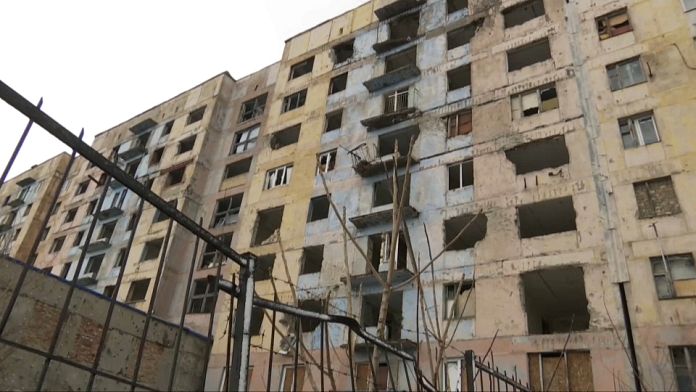 In Ukraine, the inhabitants of the Donbass region have continued to suffer the consequences of the war for eight years. Despite the difficulty, the local population is trying to survive.
"When the rockets were launched at us, I stayed underground for four days and as soon as I had the chance I fled this place. But I had to come back because I have to take care of my elderly father, said one of the inhabitants, still traumatized by the war.
Many have left the region and those who have decided to stay believe they have been abandoned, forgotten by their leaders.
"What can we expect from them? Today, we are nothing for these people", asks Roman, who lives with his family in the town of Avdiivka. It is one of the front lines of the armed conflict between the Russian-backed separatists and the Ukrainian military.
"We saw plastic bags with corpses inside"
"Believe me, the whole way from the front door to here was full of black bags. We saw about 10 or 15 plastic bags with dead bodies inside," explains Roman.
This week, Roman saw French President Emmanuel Macron on television, who pledged to mobilize 1.2 billion euros in financial aid to help Ukraine.
But Roman doesn't think he will receive help, because other leaders, before, had also made the same promise which never materialized for him and his family.
"During this whole period of war, we have only received a small box from the Red Cross. Where does all the money go? Nobody knows. What they have offered is simply to give us 5 meters of plastic to cover the holes in the house", says Roman who does not hide his anger.
Those who still have hope
Formerly an industrial power, the Donbas region is now only a shadow of itself.
Official figures are scarce, but residents say they are suffering from unemployment and fear a bigger war that will only worsen economic hardship. Ukraine's currency, the Hryvnia, has lost 8% of its value since November 2021.
Despite everything, some residents still hope for a better future.
Max, Valeria, Vadim and Ilya have set up a music group, and dream of big stages and releasing albums, but above all they hope to be able to continue living here.
"A lot of business people have left the area, there are very few jobs left. And the entertainment industry has collapsed. But I don't think we should leave our city, I think a day everything will be better. Sooner or later, everything will work out. And we can live and thrive here. Not only as a human being, but also as an artist, says Ilya Borodinov, the band's guitarist.