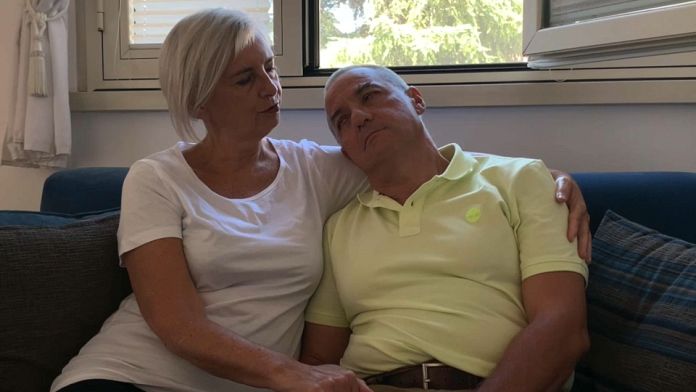 It may seem strange in the age of vaccination and barrier gestures but in Italy you can pay to get a little " human warmth. Here in Rome, we struggle with loneliness and depression. For the creators of this service, the deprivation of human contact during the pandemic will have long-term adverse psychological effects.
"The pandemic has allowed us to understand what really matters in life, whether it's being taken by the hand or just a pat on the shoulder at the right time. Small gestures that before were done very easily, today on the contrary, everything is thought out. To be able to find a place or someone that allows you to find peace of mind, it is in my opinion, it is such an added value to our lives. That's why demand has increased" Explainsaura Nardini, co-founder of"Cuddle Place".
Duration of the cuddle session: between 30 minutes and 1 hour. you will have to pay 60 euros for half an hour of tenderness.
Walter Tabbì, is a regular customer. He has been coming here since the beginning of the pandemic.
"It is a long-term benefit, being in a situation where you have nothing to do but listen to yourself and be present is very useful when it comes to focusing and setting goals."
It is in particular the pandemic that motivated the creation of this type of services despite a return to almost normal. we asked an expert why people still need physical contact today.
This need is not new, it was just waiting to be recognized. Covid-19 was a trigger.
"The need for affection was already there. The pandemic helped make it an acute problem because people had to isolate themselves and today it has become chronic"underlines Sebastiano Maffettone, professor of political philosophy at Luiss University.
Italy was the first Western country to be affected by the virus, and the fact that it is one of the first to experience this type of this service should not surprise says the expert :
"No one would have ever thought that this type of service could exist in Italy.. but we were the first to face the emergency, which certainly pushed the Italians to react and find solutions before the others" Followsebastiano Maffettone.
According to experts, anxiety disorders and depressions are expected to increase in the coming months.
This need for connections is a reminder of the extent to which containment and barrier actions to stop the epidemic have had a significant impact on society and human relationships.