News
In Kyiv, tears and faith after almost a month of war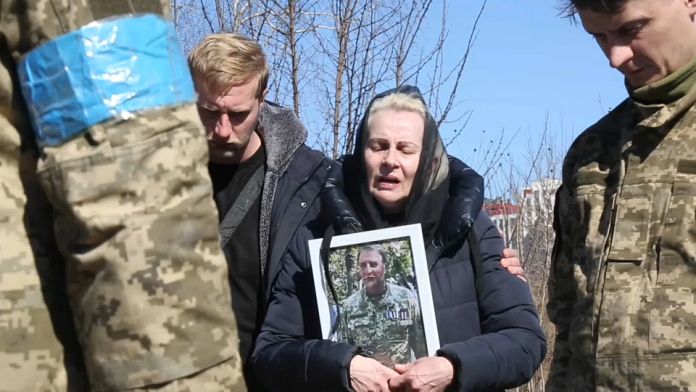 Ukrainians mourn their fallen loved ones and pray for victory.
The tears of bereaved families
Ukrainians mourn their fallen loved ones. In Kyiv, this family had to wait more than three weeks to recover the remains of Yuriy, killed near Irpin, at the age of 59. He leaves behind a wife and a grief-stricken son, Artem. More than ever, the young man intends to fight against the Russian troops to avenge the death of his father:
"We didn't start this war, but we'll end it. The Russians can't fight in close combat. Remember, they're cowards. Do you hear the sirens? That means they're starting to bomb us again. "
The Kyiv municipal cemetery bears witness to the escalation of a war that did not start on February 24, but eight years ago, in 2014, in the separatist east of Ukraine and when Russian troops annexed Crimea . A war that had already caused 14,000 deaths, before this new chapter of the conflict, much more destructive, opened for the country. Now more than ever is the time for prayer.
"It's a war, not just for our freedom, it's a war for our survival. Because if we lose this war, we'll probably all be killed by the Russians because they don't recognize the independence of Russia. 'Ukraine", points out Max, a Ukrainian entrepreneur.
Pray for the courage to resist
In a church, soldiers pray for the hope of winning the fight for freedom and independence for Ukraine.
Keep the faith to have the courage to resist and thus defeat the Russian troops. But some lament a lack of faith:
"If we believe as we should believe, we would crush Russia, we would destroy Russia, we would destroy the Kremlin. Today, we are only resisting in our territory because we lack faith. We are weak in faith" , says a soldier of the battalion of the "fraternity" who celebrates the prayer of the day.
Bringing down the Ukrainian capital remains Moscow's main military objective, say Western officials. Russian troops could encircle kyiv in the coming weeks and resort to even more devastating and deadly methods.
While diplomatic efforts to achieve a ceasefire struggle to produce results, the human toll of this war continues to climb.