News
In Kosovo, Ukrainian women learn how to defuse 'blind killers'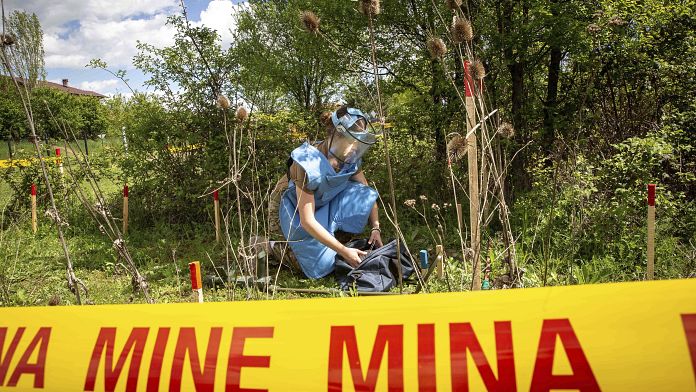 In Kosovo, far from their country overrun by Kremlin soldiers, Ukrainian women are taking crash courses in demining in order to return home armed to neutralize the vast quantities of explosives that will trap their homeland for decades to come.
"The only reason I'm here is to help my country", told AFP Anastasia Minchukova20, volunteer for this three-week course with other Ukrainian women who have arrived in the former Serbian province in recent days.
Kosovo has experience and expertise in this area.
After the war between Serbian forces and Albanian separatist rebels which claimed 13,000 lives at the end of the 1990sthe territory was left with 4,500 minefields to defuse, according to US estimates at the time.
Most of the craft were located near the border withAlbaniain the mountains of the region of Pejacalled Pec by the Serbs, where the UCK rebels received armaments, ammunition and humanitarian aid dispatched by Tirana.
It's at Peja that six Ukrainian women, who will soon be eight in number, are training in the detection and disposal of explosives under the aegis of the Mines Awareness Trust (MAT) for Kosovo, a charity specializing in mine clearance assistance worldwide.
The training center is littered with various defused explosives. Under a radiant spring sun, trainees dressed in blue protective suits learn how to handle detectors, identify mines and defuse techniques.
"Huge demand"
"The aim is to train them to international standards (…) but adding particular elements to the Ukrainian theater", explains to AFP Artur Tiganithe chief instructor of MAT Kosovo.
Participants must familiarize themselves with the explosives inherited from the former USSR, including aerial bombs, guided weapons, mines and rockets.
After their return to the country in mid-May, they intend to put their knowledge into practice in the areas from which the Russian forces have withdrawn.
"There is a huge demand for people who know how to demine", declares Anastasia Minchukovaan English teacher.
The formation set up in response to the invasion of theUkraine is open to all but Kyiv prohibits men between the ages of 18 and 60 from leaving their country.
"There are several ways to fight. I will do this by clearing areas, educating people about mine risks", continues the young teacher. "I know that we will have the opportunity to prove that we are capable of doing the same thing as men".
According to specialists, decades will probably be necessary to neutralize the thousands of explosive devices still active dumped on nearly half of the territory of Ukraine.
"Afraid of nothing"
"It will take 50 years to clear everything", recently estimated Perrine BenoistDirector of Armed Violence Reduction for the NGO Handicap Internationalrecalling that "we are still demining in Laos, Cambodia and Vietnam, 50 to 60 years later".
Kateryna Grybinitchenko36, a specialist in the study of contaminated sites, came from the region of Donetsk to deepen their knowledge. She says she couldn'tremain indifferent"to the rockets flying overhead."This is why I also decided to contribute"in combat, she underlines.
From the start of the invasion, the Kosovo gave its unfailing support to theUkraine although it does not recognize Pristinano more than the Russia or the Serbia. the Kosovo aligned itself with Western sanctions against Moscow and exempted Ukrainians from visa requirements.
The MAT wants to welcome new groups of Ukrainians very soon. "We are also planning to go to Ukraine to provide training there", Explain Artur Tigani.
"In 1999, Kosovo relied on third parties to come and train Kosovars to get rid of devices that kill people indiscriminately", declares Ben Remfrey, Director of MAT Kosovo. Today, others come to Kosovo to get the teachings"which their country absolutely needs to get rid of these blind killers".
"I saw, while traveling the country, the immense quantity of abandoned ammunition and still active explosives lying on the ground", highlighted Kateryna Grybinitchenko.
Anastasia Minchukova is aware of having chosen a perilous job because "all of Ukraine is dangerous".
"But I'm ready. I am Ukrainian. I'm not afraid of anything."