News
In eastern Ukraine, ceasefire violations are on the rise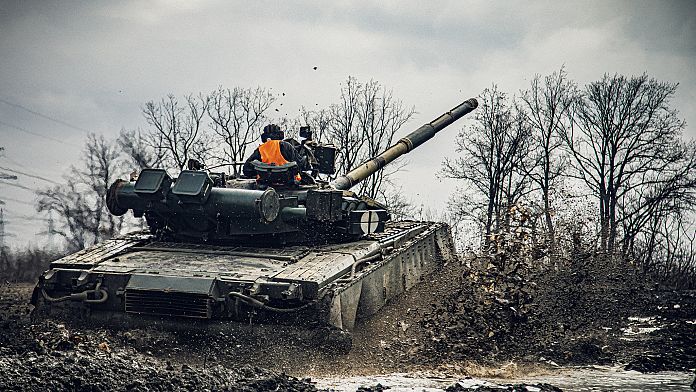 In these images shot on Saturday, Ukrainian Interior Minister Denys Monastyrsky visits soldiers in Donbass. Less than 300 meters away is the front line, with the pro-Russian separatists on the other side.
It was at this time that mortar fire occurred. Evacuation operation for the minister … the scene is filmed by journalists from France television in Novoluhanske, a locality where the Ukrainian army and the pro-Russian separatists of Donbass face each other.
Ceasefire veiled more than 1,500 times, Kiev announces two dead soldiers
The region has been in a state of war for eight years, with a drastic increase in incidents in recent days. The OSCE reported more than 1,500 ceasefire violations on Saturday, the highest number this year for a single day. The Ukrainian army has also announced two deaths in its ranks.
Sign of growing concerns, Berlin and Paris on Saturday called on their nationals to leave Ukraine. German airline Lufthansa and its Austrian subsidiary Austrian Airlines have announced the suspension of their flights to the Ukrainian cities of Kiev and Odessa from Monday until the end of the month.
The separatists, who accuse Kiev of wanting to attack them, announced on Saturday a "general mobilization"men fit to fight, after having ordered the evacuation of civilians to neighboring Russia the day before.
According to the latest figures from the separatists, more than 22,000 people have been evacuated to Russia, a low figure for areas where several hundred thousand people live.
The Russian region of Rostov, bordering Ukraine, has declared a state of emergency to deal with a possible influx of refugees from separatist areas.
Russian ballistic missile tests
Adding to this, President Vladimir Putin personally supervised "strategic" exercises with firing of "hypersonic" missiles, new weapons that the Kremlin chief previously described as "invincible" and capable of carrying nuclear charges.
Vladimir Putin appeared alongside his Belarusian counterpart Alexander Lukashenko during a meeting by videoconference with his generals coordinating the firing. According to the Kremlin, these were carried out successfully and involved Tu-95 bombers and submarines.
Ukrainian offensive: a baseless scenario according to Borrell
Reacting to the Russian media accusing Kiev of preparing an assault against the rebel enclave in the Donetsk and Lugansk regions, the head of European diplomacy deemed this hypothesis "unfounded".
"The EU sees no basis in the allegations coming from the non-government controlled areas of Donetsk and Lugansk about a possible Ukrainian attack," he said.
Faced with Russian military exercises, Ukrainian Defense Minister Oleksiy Reznikov repeated that Kiev had no intention of carrying out an offensive, but that he would not let the civilian populations and his troops be targeted by shooting "without impunity", in a message on Facebook.
Zelensky wants to meet Putin
Emmanuel Macron spoke on Saturday with his Ukrainian counterpart Volodymyr Zelensky, who says he does not want to "respond to provocations along the line of contact", according to the Elysée.
Volodymyr Zelensky "entrusted him with telling Vladimir Putin Ukraine's availability for dialogue", underlined the French presidency.
"A Russian military action against Ukraine would bring the war to the heart of Europe", hammered a French presidential adviser, evoking a risk of conflict "in Ukraine and around". There would then be "no other possible option than a very strong reaction", he added.
The Ukrainian president also urged Westerners to end their "appeasement" policy vis-à-vis Moscow and to increase their military aid to Kiev, "shield of Europe".
High risk of Russian offensive according to NATO
Russia can launch an attack on Ukraine "at any time", repeats for its part the White House.
US President Joe Biden is due to participate in a rare National Security Council meeting on the Ukrainian crisis on Sunday, a few days before a meeting between his Secretary of State Antony Blinken and his Russian counterpart Sergei Lavrov on Thursday, February 24.
But the lights are now red, with NATO saying that "all signs indicate that Russia is planning a full attack" on Ukraine. The Atlantic alliance accuses Moscow of reigniting the conflict in the Donbass to create a "false justification" to launch a larger offensive.
For its part, Russia conditions de-escalation on "guarantees" for its security, such as the withdrawal of NATO's military infrastructure from Eastern Europe and the assurance that Ukraine will never join the Atlantic Alliance, unacceptable demands for Westerners.