Soccer
In camera, voices are raised against the decision of the LFP
A supporter's manager ASSE and the mayor of Saint-Étienne reacted to the sanction imposed by the LFP at the Ligerian club. They are against closed games.
ASSE takes note of the closed session
For the incidents that occurred at the Stade Geoffroy-Guichard during the match between ASSE and Angers SCO, the Disciplinary Commission of the LFP took sanctions against the fans of Saint-Etienne. They are forbidden to travel for the match against FC Metz, Saturday (17h) at the Stade Saint-Symphorien and banned in "the Cauldron" during the reception of Clermont Foot, February 7.
Measures pronounced as a precautionary measure, pending the instruction of the file during the session of Wednesday, November 17, 2021 during which the instructor will submit his report. In its official statement, AS Saint-Étienne indicated that it "took note of the investigation of the case and of the first decisions rendered".
The president of the USS speaks out against collective sanctions
The president of the Union des Supporters Stéphanois (USS), Jean-Guy Riou, he believes that "this is unacceptable" to impose such a decision on all the fans of Saint-Etienne. "Once again, we are going on a collective punishment when there is a whole administrative and judicial arsenal to punish troublemakers. There, we sanction potentially 42 000 supporters of the ASSE. The grandpa who is a subscriber and for whom the match is his only outing of the week, the father and his son who have bled to take a subscription and afford a moment of leisure. They didn't throw smoke bombs on the lawn", he denounced in remarks on Radio Scoop.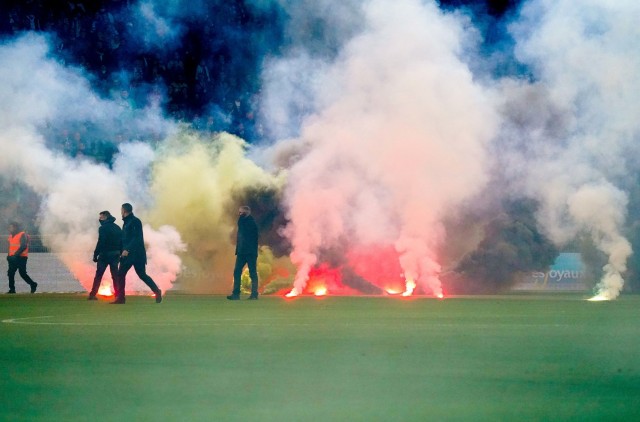 Perdriau, "we have the means to take individual sanctions"
The Mayor of Saint-Étienne, Gael Perdriau, sincerely regrets the incidents of last Friday. However, he is also against collective punishment. "The incidents are deplorable and they penalize everyone. What we have seen is not the image of the AS Saint-Étienne that we know throughout the world. We must support the team in all circumstances, so I regret the overflows and these consequences," he lamented on the same media. The elected Saint-Etienne "thinks that we have the means today to take individual sanctions". Nevertheless, he, feels a little helpless. "But we are in the world of football and all this escapes me…", he acknowledged.