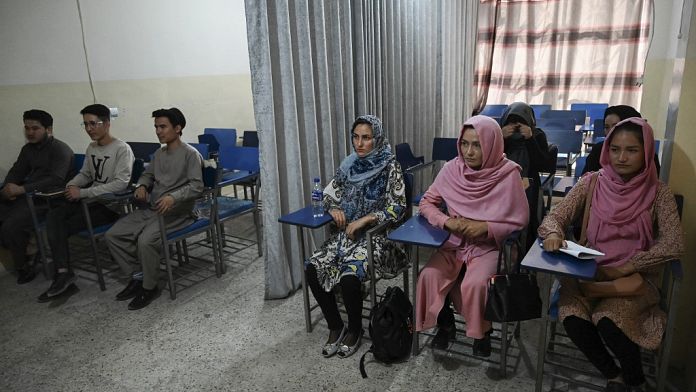 Since coming to power in mid-August, the Taliban have repeated that girls could study from primary to university. And that's what Taiba intends to do. At the age of 8, she studied at a private elementary school in Kabul, where 600 children, girls and boys rub shoulders."I really like school. I study _ _ to have a brighter future", confides the little girl with a smile, before starting the class.
Despite the Taliban's reassuring announcements, there are many fears about girls ' education. Unesco stated that the immense progress made since 2001 was now "in danger".
In the Taiba school, the teaching team says the Taliban came to tell them they could continue teaching, as long as they respected Islamic law. "We try to make teaching easier. We will try, for the sake of our country. We will do everything possible"assures Mujiburahamn Olfat, one of the teachers.
Concerns are particularly strong about higher education. Again, the Taliban assured that women could study under certain strict conditions, such as non-mixing in classrooms or wearing the Niqab, a full-face veil composed of a simple slit at eye level. But for now, most public universities remain closed in the country.
Kabul University closed until further notice
At the entrance of the Ministry of higher education, women, mostly accompanied by a relative, tried to find out on Monday what would happen to their curriculum, but they were not allowed to enter
So our special envoy in Kabul, Anelise Borges, went to ask the Deputy Minister of Higher Education. The latter refused to give his full name and asked to be called Ustad -"professor"- Kamran : "The policy of the Islamic Emirate on the education of girls and women is very clear. The Islamic Emirate believes that all girls and women can study, and that Afghanistan needs their education. We value their education. We are simply waiting for the right conditions, and the doors of schools and universities will be open to all. "
Kabul University remains closed until further notice. The guards are instructed not to let anyone in, especially not journalists.
Some of the rules imposed by the group will in any case be difficult to implement in universities, such as the need to have completely separate classrooms, where only women will be allowed to teach students. "Various state universities claim that they simply do not have enough female teachers, and that many women will be asked not to return, if classes actually resume one day"concludes our special envoy, Anelise Borges.