News
How is the EU preparing for possible cyberattacks?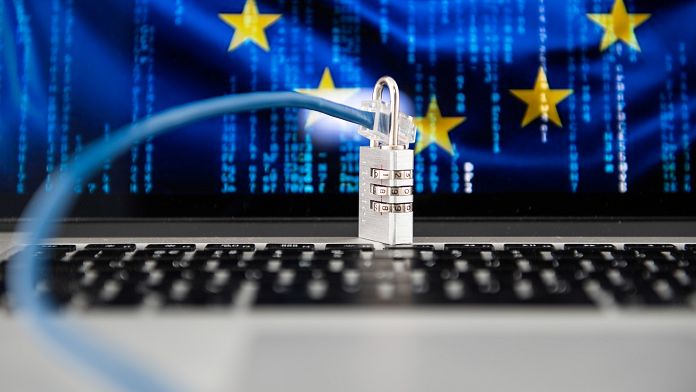 Wars are no longer just fought on a battlefield. The hybrid conflicts and cyberattacks worry Europeans. These clashes are taking place in Ukraine and therefore threaten the European Union.
The central bank of Lithuania asks the country's banking institutions to prepare for power outages and to digital attacks.
Power and internet outages are considered extreme but possible scenarios. Lithuania shares an electricity grid with Russia, as well as with its Baltic neighbours: Estonia and Latvia. Riga also fears these cyber threats against the country.
As proof of this war by screen, the hacker group Anonymous recently attacked Russian banks and ministries. He also disrupted Russian television channels and propaganda sites. Finally Anonymous released thousands of confidential Kremlin documents. Russia, however, seems to have returned blow after blow.
Protection of banks
According to the Central Bank of Lithuania, financial companies should put in place contingency plans for cyberattacks such as ransomware and attacks by distributed denial of service (DDoS in English). Through the latter, cybercriminals attempt to overload a network with large volumes of data traffic.
The European Central Bank (ECB) also sounded the alarm. Some banks and businesses are already testing their ability to withstand such a threat.
The UK's National Cyber ​​Security Center (NCSC) is calling on many institutions to monitor their cyber resilience after detecting an increase in ransomware attacks from Russia. The head of Germany's federal financial supervisor BaFin, Mark Branson, also warned of the worrying interplay between cyber warfare and geopolitics.
Likewise, Italy's national cybersecurity agency has warned that Russia's invasion of Ukraine will increase "the cyber risks to which Italian companies that have relations with operators located on Ukrainian territory are exposed".
Private companies enter the dance
Hours before Russian tanks entered Ukraine, Microsoft's Threat Intelligence Center sounded the alarm about new malware targeting Ukrainian ministries and financial institutions.
Within three hours, Microsoft was engaged in cyber warfare against an enemy fighting thousands of miles away. The monitoring center, located north of Seattle, was on high alert and quickly disassembled the malware, codenamed "FoxBlade". He then informed the highest Ukrainian cyber defense authority. Microsoft's virus detection systems have been updated to block code that erases all data from computers on a network.
Prepare, don't panic
Sandra Joyce, head of global intelligence at cybersecurity firm Mandiant, opines that "we must prepare, but not panic, because our perceptions are also the targetShe believes that many governments and businesses in the West are ready to deal with these Russian-backed attacks.
the danger of cyberattacks in any case is at the top of the concerns of the European Union. European Commission President Ursula von der Leyen mentioned last month the "hybrid and cyber attacks" in a tweet during the presentation of the news EU guidelines on defense European.
In Ukraine, these attacks never stopped and even intensified with the invasion. A malware offensive in January blocked computers:
from the Department of Defense website.
Mykhailo Fedorov, Ukrainian Minister of Digital Transformation, considered that it was then the most serious attack of this type against his country.
In response to Ukraine's request, Lithuania, the Netherlands, Poland, Estonia, Romania and Croatia have activated the Cyber ​​Rapid Response Team to assist Ukrainian institutions"deal with growing cyber threats".
A risk for Europe
According to MEP Bart Groothuis (Renew Europe) the same malware behind the attack on critical infrastructure in Ukraine has already been detected in Latvia and Lithuania.
The European Union Agency for Cybersecurity has also published guidelines aimed at strengthening the security of public and private organizations in Europe in response to the war in Ukraine. The United States and the United Kingdom have taken similar measures.
Lithuania, the Netherlands, Poland, Estonia, Romania and Croatia had planned to send a team of experts to Ukraine. But the Russian invasion suspended this mission.
At the same time, the EU's External Action Service and National Cyber ​​Response Teams also set up an imaginary scenario. This cyberattack originated in Blueland, an imaginary country that looks a lot like Russia, and whose digital strikes have caused outages in hospitals and power plants across Europe.
This imaginary offensive caused casualties, triggered EU sanctions and led to the activation of a mutual defense clause foreseen in the EU treaty. This clause was last used in 2015 after the terrorist attacks in Paris.
Several technology organizations from Romania, Moldova, Lithuania, Slovakia, Estonia, Hungary, Poland and Finland call on European leaders to set up a "digital shield". For the experts the question is not: if a cyberattack were to occur? For them the question is: when will this aggression take place?