News
How compulsory vaccination against Covid-19 is heating up tempers in Austria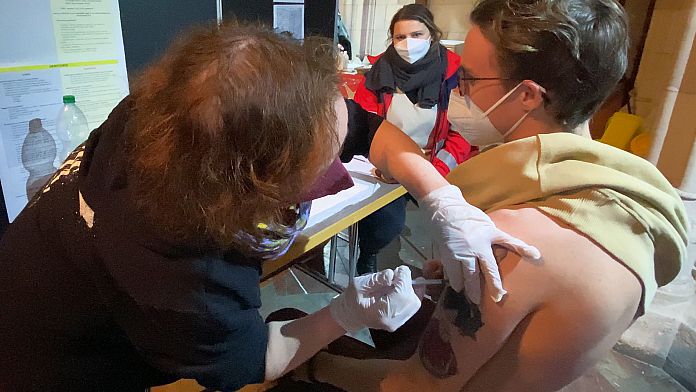 It took me less than two hours to understand why in recent weeks tempers have been heating up in Vienna, where the atmosphere is usually rather calm. Austria is the only country in the European Union and one of the few in the world where vaccination against Covid-19 is compulsory for people over 18. Those who have not been vaccinated face fines of up to 3,600 euros per year.
My objective in going there was to understand how this obligation was perceived. Does this measure really help to fight the pandemic? Or is it further fracturing Austrian society?
For two days, I met with party representatives, in particular from the new party antivax MFG, and citizens, some for, others against. I also met people in charge of vaccination and police officers who are required to enforce this new legislation.
antivax rally "for our children and freedom"
In the cold of a February evening, I followed a rally of antivax in support of the "convoys of freedom". As they tried to replicate the Canadian example, organizers hoped to meet in downtown Vienna with their trucks, motorhomes and cars, but were prevented from doing so by the municipality. Failing that, protesters marched through the streets surrounding the historic center. From a podium, the organizers encouraged them while a large police deployment was implemented to keep them under control.
In this colorful and noisy gathering, the participants equipped with sirens, noisemakers and drums displayed Austrian flags, but also Canadian flags sometimes while the signs indicated: "The pandemic is a lie!" or even "Let's stop the Covid cult!"
The interviews that I shot on location were just as colorful. "We are vaccinated like pigs on a farm," throws us a sexagenarian. "We are here for our children, peace, freedom and democracy," indicates a younger man.
Police deployment
The police were present almost everywhere to watch that no demonstrator walked on the roads used by traffic.
I spent almost two hours filming this gathering before deciding to record an intervention in front of the camera. Walking through the crowd, I had to do several takes because there was a lot of noise around me. At some point, a man came up to my left and started pushing me, shouting: "Go away! Get out!"
I replied that I was filming myself, but the man made me lose my balance. He pushed me three times before protesters and my fixer Klaus Jurgens separated us. I tried to explain to him that being in a public place, I had the right to film. He kept screaming, he thought while making several videos of myself, I was harassing a woman and her child who were standing in front of me in the crowd, people I didn't even have not noticed. He ended up calming down and rejoining the demonstration against compulsory vaccination.
Moments of tension
I continued filming, but fifteen minutes later the man came back with some friends who helped him translate what he said. He wanted to apologize, he hadn't realized, he told me, that I was a journalist. I then pointed out to him that I was precisely there to hear his concerns.
Like the other participants, he was there to demonstrate in non-violence. But he somehow lost his temper when he saw me multiplying the recordings with my cell phone.
While packing up our things, Klaus Jurgens then told me that he had recently heard of other examples of tense moments during these demonstrations of antivax. "Like everywhere in Europe, people here are fed up with this never-ending pandemic," he said before adding: "Whether you are for or against compulsory vaccination, nerves are on edge at the moment in Austria."