News
Hong Kong elects new election committee "reserved for patriots"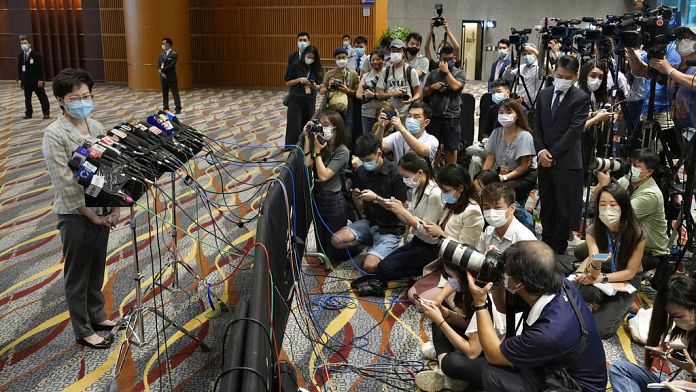 Hong Kong's political elite on Sunday names a powerful committee that will choose the city's next leader and nearly half of the legislature, under a new "patriot-only" system imposed by Beijing.

"This is an important election although the number of people who can participate in it is not high," Hong Kong's current leader Carrie Lam told reporters, adding that the new system would ensure that "anti-Chinese troublemakers" could no longer "obstruct" the government.
Some 4,800 Hong Kongers are eligible to vote for the election committee, the equivalent of 0.6 % of the city's 7.5 million people, and fewer than the 6,000 police deployed to ensure there are no demonstrations or disruptions during the vote.
In 2016, before the reform, about 233,000 Hong Kongers had been able to vote.
The vast majority of the 1,500 seats involved in Sunday's vote will be ex officio or chosen by special interest groups, and only 364 seats are actually up for election.
This is the first election under a new system where all people running for public office must be checked for political loyalty and cleared not to pose a threat to national security.
In December, this committee will nominate 40 of the 90 seats in the city's Legislative Council – 30 will be chosen by special interest groups and only 20 will be directly elected.
The following year, he will choose the next leader of Hong Kong, approved by China.
Beijing insists that the new political system is more representative and will prevent "anti-Chinese" elements from coming to power.
"Puppets" from Beijing
Critics say it leaves no room for the pro-democratic opposition, and that it makes Hong Kong a mirror of authoritarian mainland China led by the Communist Party.
"Hong Kongers are completely cut off from electoral operations," Nathan Law, a prominent Democratic leader who fled to Britain last year, told AFP.
"All election candidates will become show puppets under the full control of Beijing, without any significant competition," he added.
Ted Hui, a former legislator who moved to Australia, felt that Hong Kong's political system was now "a stamping game completely controlled by Beijing".
"This is more than a managed democracy. It is an autocracy that tries to pretend to be civilized, " he commented to AFP.
China had promised that Hong Kong would retain its main freedoms and autonomy for 50 years after its handover by the United Kingdom in 1997.
But Beijing began tightening its grip on the city following the 2019 protests.
Chinese leaders were also stung by the landslide victory of pro-democracy candidates that same year in district council elections – the only civil service posts in Hong Kong selected entirely by universal suffrage.
In addition to the new political system, China also imposed a broad national security law that criminalized much of dissent.
Many opposition figures have been jailed, dozens of pro-democracy groups, including the city's most popular newspaper, have been shut down and tens of thousands of Hong Kongers have gone abroad. Others were disqualified because of their political views.
Source link