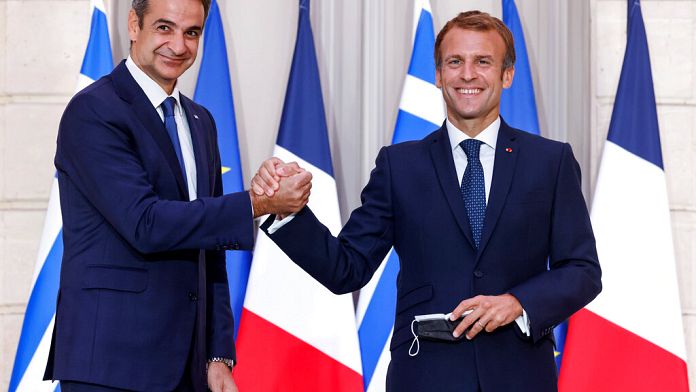 France and Greece are strengthening their strategic and military partnership.
Strengthening European defence
Athens has thus formalized this Tuesday the order of three frigates of defense and intervention for an amount that amounts to several billion euros".
This contract is part of a strengthening of the Greek weapons program after the recent tensions with Turkey in the Eastern Mediterranean.
For Athens, as for Paris, it is more generally a question of strengthening European defence and security :
"The European Union must be able to autonomously defend its national and geographical interests in Europe and beyond. This is only possible if it develops its military capacity, without necessarily having to rely on NATO or UN assistance. Choices such as this strategic partnership between Greece and France go precisely in this direction."
France takes comfort after the submarine crisis
For France, this military contract comes after the submarine crisis. In mid-September, Australia triggered the wrath of Paris by renouncing a mega-order of 55 billion euros, preferring to turn to the United States and the United Kingdom.
For Emmanuel Macron, it is time for Europeans "come out of naivety" vis-à-vis Washington : "We are obliged to note that for more than ten years, the United States has focused on itself first, and has strategic interests that are redirecting to China and the Pacific. It is their right, it is their own sovereignty. And I respect the sovereignty of the peoples. But we would also be naive, or rather we would make a terrible mistake, not wanting to draw all the consequences for ourselves. It is with the same pragmatism and lucidity that we as Europeans for our independence must take our share of our own protections."
Frigates delivered to Athens in 2025
The French frigates ordered by Greece will be built by Naval Group in Lorient, Brittany ; they are to be delivered to Athens by 2025.
They are new generation frigates, highly digitized, cyber-protected, able to board a helicopter and an aerial drone. They are considered by its manufacturer to be particularly effective in anti-aircraft warfare.
Prior to these frigate orders, Athens had purchased 24 Rafale aircraft from Paris.