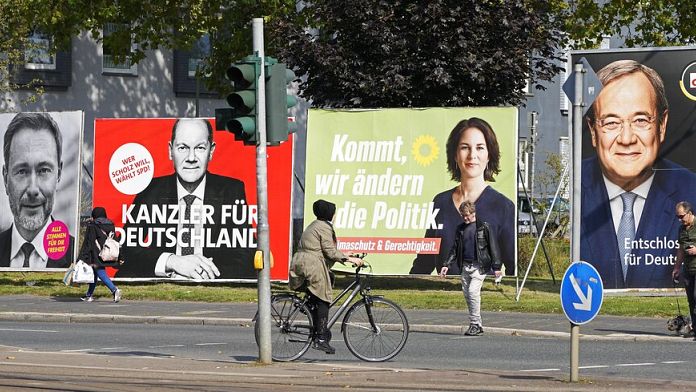 In Germany, the beginning of major maneuvers between parties to form a coalition. The Social Democratic party is best placed, but the Greens and Liberals will have to be reckoned with.

In Germany, the Social Democratic party (SPD) d"Olaf Scholz aspires to lead the next government, building on its success in Sunday's legislative elections.But with which partners will it form an indispensable coalition to govern : with environmentalists ? with the Liberals ? Everyone goes about their prognosis and analysis.
And then there is the Conservative party (CDU/CSU) which suffered a heavy defeat on Sunday. But its leader does not admit defeat. Armin Laschet imagine very well opening discussions with other parties for – who knows ? – achieve a majority.
The weight of the Greens and Liberals
In fact, the ball is mostly in the court of the Greens, led by Annalena Baerbock, and by the Liberals of Christian Lindner. Their support being essential to any candidate for the chancellery, they will be able to set their conditions.
This is the whole issue of the negotiations that will take place in the coming weeks.
Moreover, as early as Monday, the Greens and Liberals announced the opening of exploratory discussions to determine with which parties they would be willing to cooperate.
How long will it take to reach a coalition agreement ? This Monday, the leader of the SPD said he wanted to get there before Christmas.
Until then, power remains in the hands of the Chancellor Angela Merkel, which manages day-to-day affairs, pending the appointment of his successor.