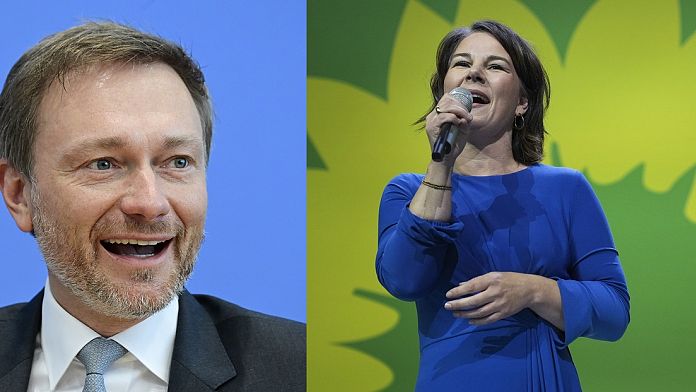 In the quest for the future German Chancellor, the Greens and Liberals hold the master cards. Arrived respectively in 3rd and 4th position of the legislative, they met Tuesday evening for the first time since the elections. Objective: to identify points of agreement with a view to then negotiating with the two major parties the CDU and SPD"s.
A first contact immortalized by a selfie between the environmental co-leaders, Robert Habeck and Annalena Baerbock, and those of the FDP (liberals) Christian Linder and Volker Wissing.
Volker Wissing, secretary general of the FDP explained that another meeting will take place on Friday with the Greens to discuss further. He also said that he had accepted the offer of talks with the conservatives of the CDU/CSU, as well as with the social Democrats of the SPD.
For her part, Annalena Baerbock, leader of the Greens, also confirmed that her party would discuss with both sides, however; she sent a clear signal that it was the SPD that emerged victorious in the elections, and that the Greens therefore preferred "first" discussions with the FDP and the SPD.
According to observers, an alliance around the center-left leader Olaf Scholz appears increasingly likely. Angela Merkel, herself, congratulated him on his victory through a short statement, revealed this Wednesday her press service. A boost that sounds like a disavowal for his unpopular dauphin, Armin Laschet.