News
General mobilization in Przemysl, a stopover town in the Ukrainian exodus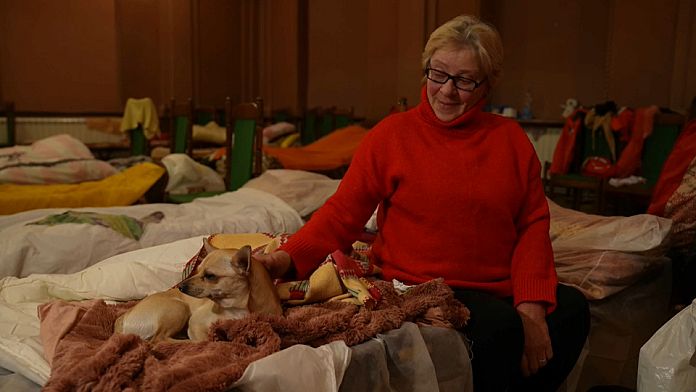 The border town of Przemysl is an almost unavoidable stage in the exodus of Ukrainians to Poland. For the past week, thousands of people have been arriving every day in this city in the south-east of the country.
Authorities and residents have opened their doors to help families fleeing the Russian invasion. The House of the Ukrainian People, a local cultural centre, has been transformed into a place of welcome by the population.
"It is the smallest reception center in the city, it can accommodate up to forty people. Ukrainians generally stay here one or two nights, the time to organize their trip to join their family or friends. beds are already waiting for their next occupants" explains the Euronews journalist, Monica Pinna.
Ludmilla: "If I'm needed, I'll go to the front."
Our special correspondent in Poland was able to meet many refugees like Ludmilla, a retired doctor, who arrived in Przemysl with her granddaughter. She says she is ready to leave her in Poland with her mother to return to the country to help her compatriots.
"If I'm needed, I won't hesitate to go to the front." the 67-year-old woman launches at the camera.
Another testimony, that of Victoria Lykova, 18 years old, karate champion and economics student. She does not know where this escape will lead her: "With my mother, we had to leave because there were bombings, they were killing people, there were tanks in the street, it was totally scary. People find themselves without a house, without a car, without anything ."
Refugees come from all over Ukraine. They share this feeling of revolt:"I have one thing to say to the Russian people explains Saha, originally from Ternopil. They're not just strategic targets."
One million refugees expected in Poland
In this cultural center, refugees rediscover a bit of their motherland. Volunteers, mostly Ukrainian speakers, accompany them and bring them support and comfort.
"I think that Poland, Polish society and the Polish government administration are ready to receive a large number of refugees. Currently, there are actually more people ready to accommodate refugees than there are. there are refugees in the country" comment Gor Horkowhead of the Przemysl branch of the Ukrainian association in Poland.
The country plans to host up to one million Ukrainian refugees. General mobilization has been decreed and food and clothing drives are increasing. A welcome outpouring of generosity as the exodus of the Ukrainian population could intensify further.