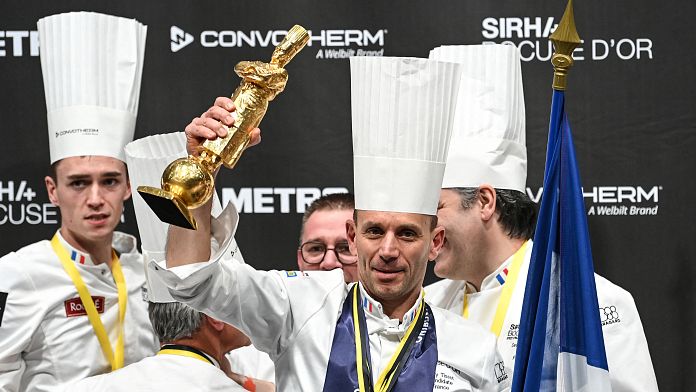 This had not happened since 2013, France won the"Bocuse d'Or" 2021, a kind of world cup of gastronomy. The Silver Bocuse returned to Denmark and the bronze to Norway.
Lyon star chef Davy Tissot was at the head of the tricolore team. After several years of disillusionment, he brought France its 8th title. "With this trophy, France is back on the highest steps. Where I am most proud is as a Lyonnais. It's huge. For the moment, it (the trophy) really comes home", enthused the holder of a Michelin star at Saisons, the application restaurant of the Paul Bocuse Institute, located in Ecully in the Lyon agglomeration.
The legendary Paul Bocuse, chef who died in 2018, launched this competition which is held every two years on the sidelines of the International Salon de la restauration near Lyon.
21 teams from all over the world were competing. Competitors presented a platter around the beef paleron. But a new challenge was also on the menu: the" take away", luxury version, with a starter, a main course and a dessert on the theme of cherry tomato.
"With each edition, the level is higher and higher. Today, we get to see what they can do with a simple product like tomato. It's extraordinary, it's like in sports, you push the limits every time. With each edition, they amaze us"exclaims Jérôme Bocuse, president of the Bocuse d'Or.
"Dishes like works of art : these are the masterpieces of the chefs who participated in the 2021 edition of the Bocuse d'Or. But beyond the result of the final, what stands out is the vitality of the sector after the health crisis: haute cuisine is back, stronger and more committed than ever", concludes our correspondent Stefania De Michele.