News
G7: United Kingdom calls for unity of "free democratic nations" against Moscow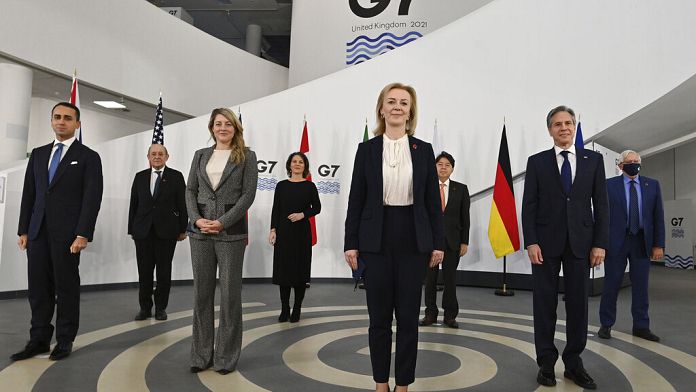 Leading a united front against the global aggressors is the message conveyed by the United Kingdom on Saturday at a meeting of G7 foreign ministers in Liverpool.
In the line of sight, Moscow and its activities on the Ukrainian border. If the West threatens to sanction Russia in the event of an invasion, the Kremlin denies any will to attack, and accuses Kiev of having aggressive intentions.
The UK's chief diplomat, hosting the summit, called on the world's major democracies and economies to "unite to advance the frontiers of freedom".
Liz Truss had already spoken the day before with her American counterpart Antony Blinken. The two leaders assured that "Russian incursion [en Ukraine] would be a strategic error which would have serious consequences".
Prior to the meeting, Liz Truss warned that the "free democratic nations"had to wean themselves off Russian gas and Russian money to preserve their independence.
Referring to the Nord Stream 2 gas pipeline connecting Russia and Germany, the British Minister said she wanted to work with other countries "to ensure that free democratic nations are able to have an alternative to Russian gas supplies".
Liz Truss also met, on the sidelines of the meeting, the new German foreign minister, Annalena Baerbock, a politician from the green party of the Greens who had previously opposed Nord Stream 2.
The United Kingdom, little dependent on Russian energy, is a detractor of this pipeline. It should be noted, however, that London's financial district and real estate market are important hubs for Russian assets, with UK authorities long accused of turning a blind eye to questionable funds from around the world.
Source link