News
French presidential election: a campaign Sunday for Jean-Luc Mélenchon and Eric Zemmour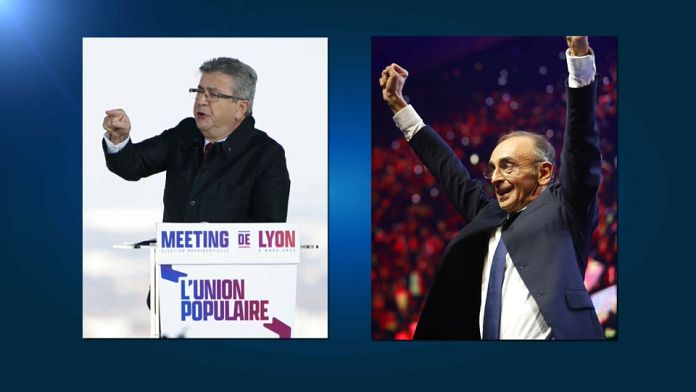 Almost a month before the presidential election in France, the candidates are surveying the field.
Jean-Luc Mélenchon condemns the Russian invasion
Jean-Luc Mélenchon was in a meeting this Sunday in Lyon. The opportunity for the leader of the radical left to reaffirm his position on the war in Ukraine, while his rivals are constantly pointing out his complacency with the regime of Vladimir Putin.
In Lyon, Jean-Luc Mélenchon expressed his solidarity with the Ukrainian people and firmly condemned the invasion decided by the Russian president:
"The invasion of Ukraine, if we stay where we are, changes the course of history. Vladimir Putin starts a new world order based on force (…) Unaligned that I am, I don't want Mr. Putin's war or his world order".
Eric Zemmour and Marion Maréchal want to federate the rights
Another meeting, in Toulon this time, that of Eric Zemmour, the ex-journalist, far-right candidate for the presidential election, who received this Sunday the official support of Marion Maréchal.
Marine Le Pen's niece left the "National Rally" for the "Reconquest" party with more radical positions. Their objective, in the long term, to federate the parties of the French right:
"In record time, you have already begun to realize a lot of why I have been pleading for years. Building this great union on the right that Eric manages to bring to life every day by attracting in its wake personalities from the Republicans, the National Rally and by the way. I dreamed about it and you made it", said Marion Maréchal.
"Never in the history of the Fifth Republic has a political movement grown so quickly. A record in record time. My friends, I am not saying this to flatter you, but we are the event of this presidential campaign ", outbid Eric Zemmour.
The first round of the presidential election will take place on April 10, the second round on April 24… At least eleven candidates are in the running.