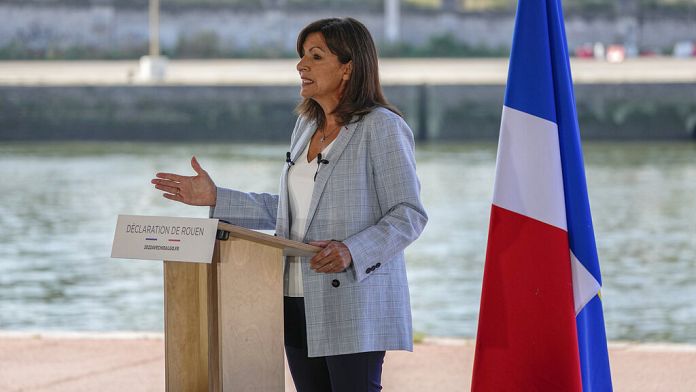 After a long round of heat, the socialist mayor of Paris Anne Hidalgo launched herself in the race for the Elysee on Sunday in Rouen, a candidacy to "build a fairer France" and "reinvent the beautiful French model", which adds to the many already listed on the left.
"Today I am ready, which is why, with this warm strength that surrounds me, humbly, aware of the gravity of this moment and to make our hopes the reality of our lives, I decided to be a candidate for the Presidency of the Republic", launched in the late morning in front of a few hundred supporters Ms Hidalgo on the docks of Rouen, in the city of the socialist mayor Nicolas Mayer-Rossignol, a relative.
An ideal site to illustrate industrial conversion through the ecological transition, which will be one of the central themes of its campaign. Rouen also allows you to give "a national dimension"to his candidacy, in the face of the trial in Parisianism that is made to the woman who has been at the head of the capital since 2014.
"The quinquennium which ends was to unite the French, it divided them as never before. He had to solve social problems, he made them worse. He had to protect our planet, he turned his back on ecology", said the socialist in an attack on Emmanuel Macron's record.
"A French woman"
"I want with you to do everything to repair, (…), to build a fairer France", put forward the socialist, claiming "the left of Jaurès, Blum and Mendès France, Mitterrand". "This will be the appointment of the first woman president of the Republic with French women," she claimed, promising equal pay for men and women.
The candidate reiterated her promise to increase the salaries of several professions, without mentioning the doubling of teachers ' salaries that she considers possible and that she intends to implement. Proposals that she details in her book "Une femme française" (Editions de L'observatoire) whose release is scheduled in three days. Anne Hidalgo is currently credited with 7 to 9% of the vote according to the polls.
Fragmentation of the left
With this candidacy for the Socialist Party, the French left is increasingly fragmented. Facing Anne Hidalgo is the leader of La France Insoumise, Jean-Luc Mélenchon, the communist Fabien Roussel, nominated by the PCF activists last May, Arnaud Montebourg, former minister and ex-socialist who decided to go it alone for this presidential election and finally, one of the five candidates in the ecological primary, Yannick Jadot, Delphine Batho, Eric Piolle, Sandrine Rousseau or Jean-Marc Governatori. The winner will be chosen after a vote of activists from 16 to 19 September
Eight months before the election, the idea of a union of the left is clearly no longer relevant.