News
France returns 26 works of art to Benin, a return to the country expected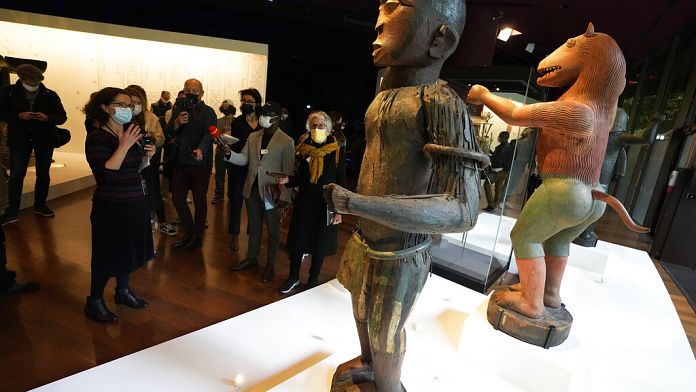 Two Beninese curators have been in France for more than a week to organize the return of 26 works of Abomey"s royal treasures. Exhibited at the Quai Branly-Jacques Chirac Museum in Paris, they will be returned to Benin after an official ceremony this Wednesday chaired by Emmanuel Macron.
Among these works of art are totem statues from the ancient kingdom of Abomey as well as the throne of King Behanzin, looted during the sacking of Abomey Palace by colonial troops in 1892.
In Benin, they will go first to a storage place, before other places in a permanent way: to the old Portuguese fort of Ouidah and the governor's house, historical places of slavery and European colonization, as well as to the royal palace of Abomey pending the construction of a new museum.
"If I take the statue of Glèlè and Ghézo, they were not in our collections. This will make a plus. I'm happy to welcome them. They attract more of our attention, as do those great ceremonial thrones that we had never seen before. This will further enrich our collection" said Abdoulaye Imorou, site manager of the Royal Palace of Abomey.
"I think it would be decent other countries that hold African arts follow the path of France" added the curator of the Ouidah History Museum, Calixte Biah.
The French president had pledged to return African heritage from or not from the former colonies in November 2017 during his speech at the University of Ouagadougou and it was at the end of 2020 that he voted a law allowing this return to the country.
According to experts, 85-90% of African heritage is outside the continent. Since 2019, in addition to Benin, six countries – Senegal, Côte d'Ivoire, Ethiopia, Chad, Mali and Madagascar – have submitted requests for restitution.
To date, at least 90,000 art objects from sub-Saharan Africa are in French public collections.
Source link