News
France: pay tribute to Samuel Paty, yes, but how?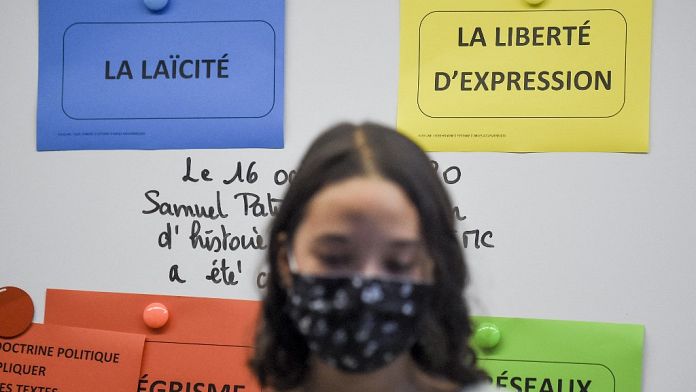 A year ago, on October 16, 2020, Samuel Paty, professor of history-geography, was murdered near his college in the Paris region". To commemorate this date, demonstrations are planned this Friday in schools. Indispensable although delicate exercise, say several teachers.
The memory of November 2, 2020
At the time of commemorating the anniversary of the death of Samuel Paty, many teachers remember the tribute that had been paid to him last November 2nd. And the tension that had aroused. The history-geography teacher had been murdered on the last day of class before the school holidays of All Saints. The French authorities had then decided to organize a tribute on the day of the next school year, Monday, November 2. But now, in the meantime, the country had reconfirmed and the health protocol had been strengthened, because of the second wave of Covid-19. This particularly complicated the organization of this tribute. Until the last moment, a certain vagueness reigned over whether or not to maintain this tribute.
In addition, the Ministry of Education had established rather precise instructions: "pedagogical sequence" in the classes, reading the "Letter to teachers" by Jean Jaurès and "minute of silence". Many teachers or school directors, who were themselves affected by the tragedy, felt that it was too directive.
To read : Tribute to Samuel Paty: how teachers organized themselves to circumvent Blanquer's instructions
"Keep the hand"
What the teachers wanted was to be able to organize things in their own way, taking into account the realities of the field.
This year, that message seems to have been (in part) heard. The Ministry of Education has transmitted a message to academy rectors for the organization of the tribute, scheduled this Friday, October 15.
« Schools and institutions will be able to organize a time of recollection in memory of Samuel Paty, and devote one hour of lessons to a time of exchanges, the content of which will be left to the choice of the teams according to their respective situations and taking into account in particular the age of the students. »
« What is important is that there are no injunctions ", emphasizes Rindala Younès, academic secretary of SNES-Lyon (main union of teachers of middle and high schools). For her, it was important to " leave it to the teams, in each establishment, to organize things. It is essential that there is a tribute to Samuel Paty, but we want to keep hold of this time of tribute ».
This Friday, the tribute could take place in the classes or in the lessons, collectively (all students of the same level) or more restricted (by class).
"Exchange on the profession of professor"
In his letter to the rectors of the academy, Jean-Michel Blanquer, Minister of Education, wishes that the time of exchanges should focus on "the profession of professor, its role and legitimacy".
" The objective, explains the minister, is to think together about the role and place of the teacher, with his students but also within French society. »_
But again, some teachers are a bit doubtful. « Such a debate, it is not decreed ", explains Rindala Younès of SNES-Lyon, who clarifies that, " in the field, teachers experience it on a daily basis. »
EMC
In the wake of the assassination of Samuel Paty, the Minister of Education had announced in October 2020 a strengthening of themoral and civic education (EMC), which succeeded civic education in 2015 and addresses notions as diverse as secularism and freedom of expression.
But the number of hours devoted to this teaching, most often given by history-geography teachers, has not increased: one hour a week in elementary school, shared teaching with history-geography in middle school and one hour every two weeks in high school.
« As every time we have a dramatic event, there is a multiplication of initiatives (…) But concretely, in my college, we are missing a teacher of history-geo ", notes Benjamin Marol, history teacher in Montreuil (Seine-Saint-Denis).
« The problem is how little time we have to work with the students." on the EMC, regrets Christine Guimonnet, the secretary general of the Association of Teachers of History-Geography (APHG).
For moral and civic education to be relevant, adds Rindala Younès, " these CME classes should take place in small groups to encourage exchanges, but not with entire classes, at 35 students per class! »
Secularism, always a thorny subject
Of all the themes mentioned, secularism remains one of the thorniest. « This is something extremely complicated, which is the de facto object of a conflict of interpretations ", summarizes Pierre Kahn, emeritus professor in education sciences at the University of Caen, who coordinated the group of experts responsible for writing the EMC programs in 2015.
« Depending on the student profile you have, you sometimes have to weigh the words ", recognizes Vincent Magne, professor of history and letters in vocational high school in Troyes (Aube). This experienced teacher considers himself "armed enough to answer some questions"but he regrets"political use"of this subject and"media, ministerial or other interventions", that "sometimes blur the message".
There campaign "That's secularism" launched at the start of the new year has been debated, as has the "Republican guide", with vademecum on secularism updated, distributed to schools in September or September secularism training plan over four years for all teachers announced in June and implemented soon.
For Christine Guimonnet, these trainings "can be useful, because there are colleagues for whom secularism, it is not necessarily very clear". But others are doubtful or even worried.
"There is a contemptuous side, believes Benjamin Marol_, as if they told us "we'll teach you how to do your job again". »_
« We are laid small guides and we must follow a manual. But that's not what being a teacher is", reacts Amélie Hart-Hutasse, co-head of history and geography for the Snes-FSU union and professor at a college in Côte-d'Or.
"There is no ready-to-think on these issues, continues the teacher. In society and the political world, there are conceptions that can be divergent from secularism (and) one should not want to extinguish any controversy either, as if one should only learn definitive truths in school. »_
Source link