News
France, Germany and Poland unite to avoid war in Europe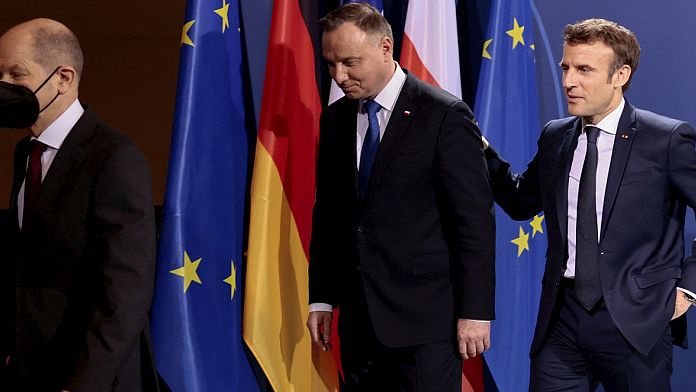 Europe wants at all costs to avoid a war between Ukraine and Russia, but defense mechanisms are being put in place: American troops and equipment arrived in Poland as reinforcements on Tuesday.
Paris, Berlin and Warsaw are joining forces to try to defuse the crisis. Their three leaders met Tuesday evening in the German capital, the last stage of the diplomatic tour of French President Emmanuel Macron. If dialogue is privileged, they do not intend to let Moscow have its way:
"The deployment of Russian troops on the border with Ukraine is very worrying and our assessment of the situation here is very similar, as is our position. A further violation of the territorial integrity and sovereignty of Ukraine is unacceptable and would have far-reaching consequences for Russia – political, economic and certainly also geostrategic." assures Olaf Scholzthe German chancellor.
"We must find a solution to avoid war. As I said, this is currently our main task. I believe we will get there" Explain Andrzej Dudathe Polish President.
More than 100,000 Russian troops are still massed on Ukraine's doorstep, raising fears in the West of an invasion of the country by Russia, which already annexed Crimea in 2014 and has supported separatists at war with Ukrainian forces since the end of the war. same year, a conflict that claimed more than 13,000 lives and never ended despite the Minsk peace accords.
Concrete solutions
In front of the press in Kiev, Emmanuel Macronwhose country currently chairs the EU, assured that it had obtained "a dual commitment" of Ukraine and Russia to respect these agreements, saying they believe in "concrete practical solutions"to achieve a de-escalation.
"Nothing should be underestimated the tension we are experiencing (…) we cannot resolve this crisis in a few hours of discussions", he warned, however.
Pending a possible diplomatic solution, he assured that he had obtained promises of Vladimir Poutine during their meeting on Monday evening: he "told me he wouldn't be causing the escalation".
Volodymyr Zelensky for his part announced to expect a next summit with the Russian and French presidents and the German chancellor on the peace process in eastern Ukraine, preceded by a new meeting between advisers this Thursday in Berlin.
Military maneuvers
If Moscow says it has no plans to attack Ukraine, the shows of force continue. large-scale military exercises are on the rise, such as three Russian battleships heading for the Black Sea, which borders Ukraine, Russia and several NATO countries.
Ukraine itself is planning extensive military maneuvers on its territory from February 10 to 20, using combat drones purchased from Turkey as well as anti-tank missiles delivered by Washington and London, alongside Russian-Belarusian exercises.
The United States, Germany and the United Kingdom have also sent military reinforcements to Eastern Europe. A first detachment of a hundred American soldiers arrived in Romania.