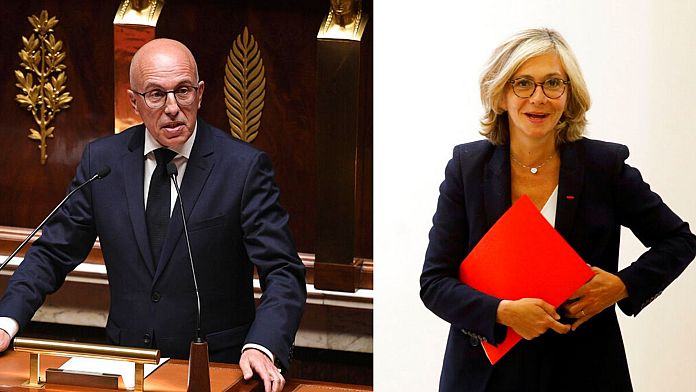 In France, Eric Ciotti and Valérie Pécresse qualified for the second round of the LR congress in charge of investing the right-wing presidential candidate.
The announcement was made on Thursday by party chairman Christian Jacob.
The second round between the two finalists will take place from Friday 8:00 a.m. to Saturday 2:00 p.m. The name of the candidate will be announced on Saturday at 2:30 p.m.
The results of the 1st round:
Eric Ciotti, Member of Parliament for the Maritime Alps: 25.59%
Valerie Pécresse, president of Ile-de-France: 25%
Michel Barnier, ex-Brexit negotiator for the EU: 23.93%
Xavier Bertrand, president of the Hauts-de-France regional council: 22.36%
Philippe Juvin, Mayor of La Garenne-Colombes: 3.13%
Participation
The participation rate is 80%. This is a record level but predictable given the influx since September of members who took their cards precisely to vote.
Nearly 140,000 people were called to vote during this closed congress, far from the approximately 4 million voters in the open primary of 2016.
Voting instructions
Xavier Bertrand, who appeared on the right as the best placed in the first round in the national polls, quickly called for a "rally" behind Valérie Pécresse.
Michel Barnier, aAnother failure of the first round, gave his support to Valérie Pécresse whom he judged "best prepared to win the presidential election".
Philippe Juvin also supported the president of the Ile-de-France region rather than Eric Ciotti.
The in-between turns
Candidates now have a few hours to take a stand before the second round, which will start at midnight on Friday and end at 2:00 p.m. on Saturday.
The in-between rounds will be intentionally brief.
"We don't want there to be blood on the walls. We don't want negotiations, knives under our throats, things have to go quickly and well", party spokesman Gilles Platret said on BFMTV on Wednesday.
Because LR, scalded by the deadly divisions of the 2016 primary followed by a historic elimination in the first round of the presidential election, can no longer afford the luxury of rivalry.
Objective: second round of the presidential election
In 2022, either it reaches the second round, or its future as a major government party will be compromised.
The right remains for the moment lagging behind in the polls, behind Emmanuel Macron and the far right. The best placed in the polls on the right so far was Xavier Bertrand, who came fourth in the first round.
LR hopes the candidate will take off once nominated by Congress.