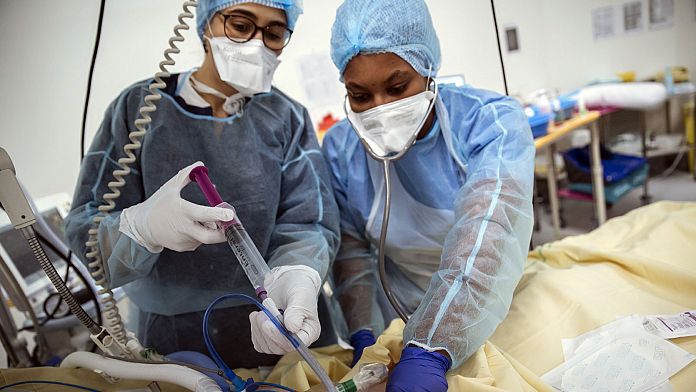 The French hospital system has been affected by slow erosion for years. This movement didn"t enrage itself last year. Thus more than 5,700 full hospital beds were closed in 2020 in health facilities in France. Nearly 1,400 partial inpatient or outpatient places were created at the same time, according to a study by the Ministry of Health published this Wednesday.
The term complete hospitalization is used by the French health authorities, when the patient is "housed in the hospital and physically settled in a bed and that he "spends at least one night there".
Covid-19 has therefore not interrupted the inexorable reduction in hospital capacity. On the contrary, the health crisis has partly amplified bed closures.
As a sign of this decline, France now has fewer than 3,000 hospitals and clinics. "Under the effect of reorganizations and restructurings", 25 public and private institutions closed last year, says the Department of Research, studies, evaluation and Statistics (DRESS) of the Ministry of Health.
The 2,983 structures still open at the end of 2020 had exactly 386,835 full hospital beds at the end of 2020, or 5,758 fewer in one year – compared to the last balance sheet for the year 2019, published in July by the same statistical directorate of social ministries.
This decline is"a little more marked"than in previous years, which"could be explained by the epidemic context", with "many double rooms transformed into single rooms to limit contagion", as well as massive deprogrammations to reallocate caregivers in critical care services.
The number of resuscitation beds, which varied greatly in response to Covid, ended the year up 14.5% (or about 6,200).
One hospital sector is particularly affected by these bed drops and closures, that of obstetrics and maternity. If the report published this Wednesday does not explicitly give data on this issue, previous studies published by the Ministry of Health allow us to grasp the extent of the phenomenon.
Maternity units increased from 578 to 481 between 2008 and 2019 and obstetric beds from 18,053 to 15,057 over the same period. This trend is not abating as institutions have or will closed in 2021 and others are threatened.
To a medical desert?
Access to hospital beds is uneven for the French. An observation that will undoubtedly continue with this movement of closure that continues. If the French health authorities intend to combat desertification of health services in the territories through the creation of local hospitals, the latter will not be provided with highly important services such as surgery and obstetrics.
The current trend is to concentrate access to all services in large urban centres. Many inhabitants of rural France therefore have to travel several tens of kilometers to get to the maternity hospital or hospital.
When comparing the situation of France with other European countries, France is on average, according to EUROSTAT data. Thus, more than 580 beds are counted per 100,000 inhabitants in France, compared to 200 in Sweden and almost 800 in Germany.
At the global level, the palm goes to Japan with 12,000 hospital beds per 100,000 inhabitants, while the United States offers only 280.
Outpatient stays and home hospitalization as a solution?
The covid-19 pandemic has not prevented the underlying trend, that ofpartial hospitalization and the "ambulatory turn"to continue, because of"personnel constraints"according to the Ministry of Health. 1,369 "day" hospital places were opened in 2020, bringing their total number to 80,089.
Hospitalization at home has at the same time experienced a "particularly strong growth"by 10.8%, or 21,276 patients"can be taken care of simultaneously in the territory".
This mode of support thus represented, at the end of 2020, "7% of total capacity in full hospitalization"excluding psychiatry, compared to 2.1% in 2006.