News
Football: Lyon loses a point, the match against OM to be replayed behind closed doors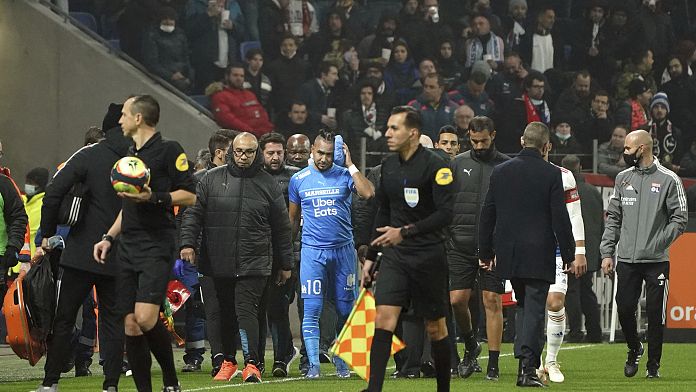 The disciplinary committee of the Professional Football League on Wednesday recognized the responsibility of the Lyon club in the incidents of the OL-OM match, in which Dimitri Payet was hit by a bottle of water, but his decisions were badly received by the two camps.
On November 21, the Marseille captain had received a bottle of water in the head when he was about to take a corner in front of the bend occupied by ultras from Lyon, where no protective net was installed. The match, interrupted at 0-0 after only four minutes, had never resumed, after an imbroglio involving referee, clubs and representatives of the State.
The match will therefore be replayed at Groupama Stadium behind closed doors, and Olympique Lyonnais is scarred by a one-point withdrawal and two home matches without a spectator.
"Any act of violence against a player in the game, especially an adult player, exposes a penalty in loss of points", declared the chairman of the disciplinary committee Sébastien Deneux at a press conference to justify the sentence imposed on OL.
"We took into consideration the actions of the Lyon club immediately after the incidents, which in particular allowed the identification of the author of the bottle throwing and gave the possibility of seeing it sanctioned by the criminal justice.", he added, however. The author of the projectile throw was sentenced by justice to six months in prison suspended in immediate appearance.
"We of course considered that the club was responsible for the actions of the supporters present in its stadium. This decision highlights a responsibility of OL, absolutely", explained Sébastien Deneux.
"unequal treatment"
Shaken by a wave of serious incidents since this summer, French football eagerly awaited Wednesday's decision, while new government measures are hoped for in mid-December to respond to general indignation, further heightened by the OL-OM affair .
But the sanctions taken by the commission were greeted negatively by both camps. OL, who were also penalized for another game behind closed doors already served when they received Reims a week ago (2-1 defeat), said they were reserving "the right to appeal".
The club of President Jean-Michel Aulas also regretted in a press release "a very heavy sanction ", who "creates unequal treatment over the same season", with "much more serious acts resulting in much lighter sanctions than those decreed against Olympique Lyonnais. "
Wednesday's decision is indeed not trivial for OL, 12th in Ligue 1 with six points behind on the podium before the announced sanctions. The club also estimates the financial loss caused by a game behind closed doors at more than three million euros.
In the Lyon camp, we defended the thesis of "the individual and isolated act", than "no one can anticipate or prevent", and we hoped to avoid any loss of point.
Source link