News
Florian, 19: "I'm looking for a humanist candidate"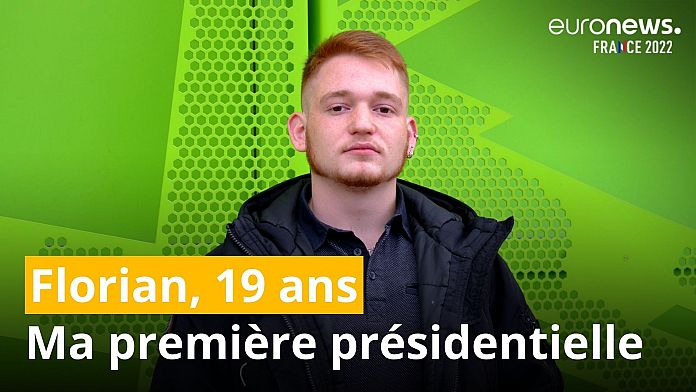 Florian Jeronimo-Ferraz is 19 years old. He is a butcher-charcutier-caterer at the CFA d'Annonay, in Ardèche. Florian hopes that a humanist candidate, who really wants to change things, will win this election.
Euronews: Do you think you will vote in the presidential election?
Florian Jeronimo-Ferraz: Yes. I'm just waiting to see who shows up, their procedures and then sorting it out.
What do you expect from a presidential candidate?
Without lying to you, I don't know any particular difference between the left and the right. But I want someone who doesn't have racist comments. For example, there was a big buzz with Eric Zemmour and I think it was really not correct on his part. This is not a mentality that we are supposed to have in France.
What is the main quality you look for in a candidate?
Someone who is truly humanistic, who thinks of others, that's really one of the strong points. Someone who tries to change things, to think more of the people who live in France, and not just to try to "make money" in quotes.
And concretely?
Try to help people who are in difficulty, for example, who receive minimum wage. Today, a mother and a father who have one or two children would receive only €1,200. You can't live: paying your rent, electricity, water and on top of that, having to pay for food and gasoline which has increased a lot. For me, it's something that really needs to be dealt with.
Are you worried about this increase in gas prices?
I see how things are changing, I tell myself that I will pass my license and that I will soon have a car. When I see that you are going to work more to pay for your gasoline than anything else, I think that yes, we should take steps to reduce that.
How do you find out about this campaign?
For example, at work we listen to the radio. In the morning, when we work, we listen to what is happening and when we hear bad stuff, we discuss it.
Where do you imagine yourself living later?
I like small villages or small towns, but rather next to a big city. At least you're cushy and you have everything nearby, 20 or 30 minutes away by car.
And you think the candidates are interested in those who live in the countryside?
No, I really can't find it. We are a minority and we are left a little on the side. They are more fixed on the big cities. Except when there are "dramas", stories. There, they are a little more interested. But in general, often, I find that we are put on the side.