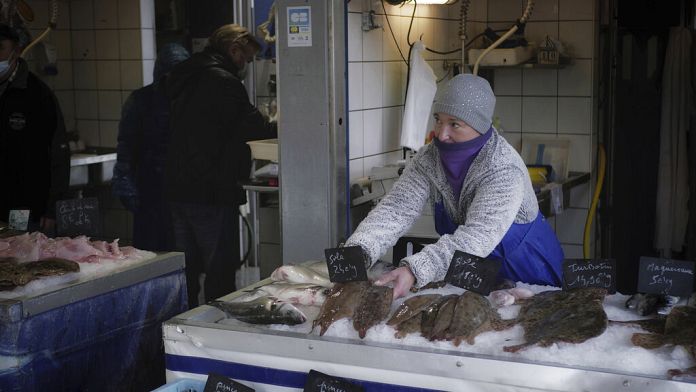 To defend its fishermen, France"s given 15 days to study retaliatory measures to be taken against the United Kingdom. Paris calls for European solidarity. Considering the low number of fishing licences granted in British waters "unacceptable", the government intends to enforce compliance. It only goes to the subsistence of its fishermen. Leur number has already fallen sharply in France, added to this the Covid-19 crisis and Brexit, the profession seems at risk.
"The boats in the region need access to English waters rather in the period October to January and we arrive in that period. The problem is that we will end up with approximately 90% of the European fleet, so French, but also Belgian and Dutch, in French waters." explains Étienne Dachicourt, general manager of the Maritime Cooperative of the Étaploise region, in Calais in the Hauts de France. For him, the dangers are of two kinds: too much competition and the risk of scarcity.
This fisherman from Boulogne-sur-Mer, Jean Marie Baheu, boss of the boat Le Murex can't wait any longer, he does not understand what gets stuck :
"We have applied for a fishing license since January, we have given the evidence of prior art, we have given all the evidence that we can bring, and evidence we have, and then there is nothing that comes in fact."
In total, according to the British government "almost 1700 vessels have been licensed to fish in the 12-200 nautical mile exclusive economic zone" and "117 for the 6-12 mile zone".
Yesterday, the Channel island of Jersey gave 64 licenses to French boats that were able to prove that they were fishing in this area before Brexit. a further 31 were granted only provisional authorisation. But 75 other vessels have been refitted and will therefore have to cease all fishing activity in Jersey waters within 30 days.
Brussels is trying to solve the problem, but the European Commissioner for fisheries, Virginijus Sinkevičius, seems powerless so far :
_"We do not yet know what information he was missing, because we provided everything we had. And if there is something missing, we will of course work closely with the French authorities to ensure that this information arrives as quickly as possible." _
As for the government of the island of Guernsey, it has committed to extend provisional authorizations "until January 31, 2022 for all vessels, in order to provide certainty and stability in the meantime". But nothing is settled.