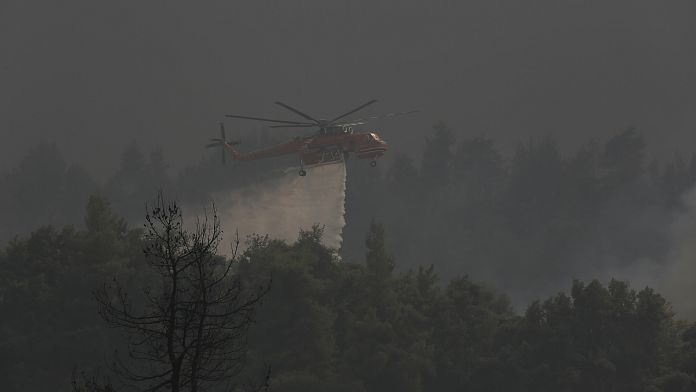 Residents of Evia are trying to help the 650 firefighters deployed to fight the flames.
Even with the support of a dozen planes and water-bombing helicopters, nothing can stop the progress of the fires that are devastating Greece's second largest island.
Two thousand people have already been evacuated those who remained still hope to save their villages from the fire.
Ioannis Thanos – ranger : "Men and firefighters are struggling, but we need planes ! The fire is behind this mountain. If he passes, he'll make it all the way here. We need planes !"
Kostas Fillos, volunteer firefighter :" We help as much as we can. We are trying to save our villages, our houses. The situation is out of control. You see what's happening. Everyone is on the road, day and night, no one closes their eyes."
Dozens of villages have been emptied of their people who have seen their homes and land reduced to ashes.
In these mountains, those who lived on crops, olives and tourism lost everything.
The fire continues to advance, threatening to reach other communities still untouched.
Klelia Dimitraki-Mayor of Monokaria : "This is a massacre. All the villages, the whole region is finished, finished. The only thing we can say is that we are lucky to be alive. Tomorrow, or maybe in five days, politicians will come to us to make promises, to tell us that they will help us, that they will rebuild our homes. But I grew up here and I believe there are people who will not rebuild anything from their previous lives."
Prime Minister Kyriakos Mitsotakis announces that he has asked Moscow to send a second géan water bomber and assures that the time of the balance sheets would come a faith the fire extinguished.
Kyriakos Mitsotakis, Greek Prime Minister: "I am the first to apologize for all the weaknesses. I fully understand the pain of our fellow citizens who have seen their homes or property burned. All failures will be identified. And responsibilities will be assigned.
Apostolos Staikos and Euronews 'special envoy in Evia :" Locals and volunteers are trying to put out the fire: "Locals here say that the fire will eventually go out when there is simply nothing left to burn. After a week of fighting the flames, many are already thinking about the tomorrow, they are angry and wonder if they will be able to stay on their land and live in the midst of the ashes".