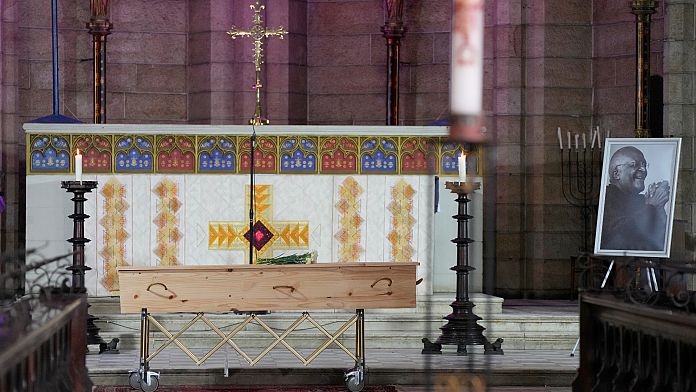 The requiem mass for Desmond Tutu, in the Anglican cathedral in Cape Town, where he preached with all his might against the racist apartheid regime, on Saturday allowed his relatives and all the bereaved South Africans to say a last goodbye to their cherished archbishop.
Under a heavy sky and a fine drizzle, family and friends, priests and dignitaries, dribbled into the church for a ceremony that Bishop Tutu, who died on December 26 at the age of 90, wanted simple and uncluttered and whose texts and speakers he had chosen.
President Cyril Ramaphosa was to deliver the eulogy after Communion and hand Tutu's widow, "Mama Leah" as South Africans fondly call her, a national flag.
"If Archbishop Desmond Tutu was there he would have said 'hey, hey, why do you look so sad, so unhappy'. He would have wanted to make us smile, laugh. Desmond Tutu was such a person," Cyril Ramaphosa said during his speech to the archbishop's relatives.
A funeral ceremony in the image of the archbishop
The coffin in which rested the two previous days in Saint George's Cathedral, so that thousands of people come to honor the memory of his battles and his enthusiasms, is in light pine. He had asked for "the cheapest possible".
No gold handles, just pieces of rope to be able to carry it. Above, a bouquet of white carnations. Bishop Tutu did not want any other flower in the church.
A close and long-time friend of "The Arch", former Bishop Michael Nuttall, was chosen by the deceased to give the sermon. When Tutu was Archbishop, Nuttall was his "number two".
Their link, "has undoubtedly struck a chord in the hearts and minds of many: a dynamic black leader and his white deputy in the last years of apartheid was no small feat. And the heavens did not stand still. collapsed! ", he said from the altar.
The week was marked by tributes to Bishop Tutu across the country and beyond. South Africans remembered his tenacity and grace in the face of the oppressive Pretoria regime.
In Soweto in particular, where he preached for a long time, he denounced the violence against high school students during the riots of June 1976, repressed in blood. Little by little, he becomes the voice of Nelson Mandela, locked up on Robben Island. The police and the army threaten him. Only her dress then saved her from prison.