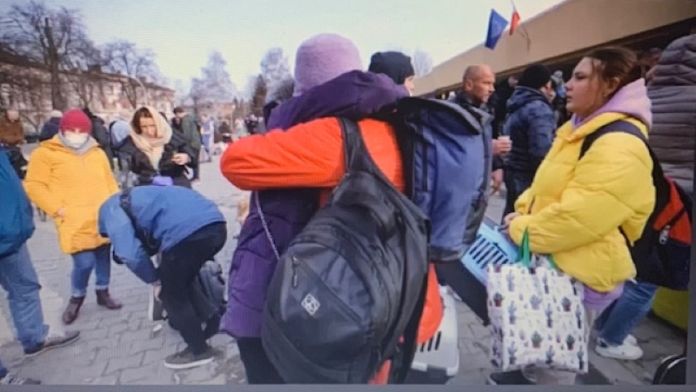 In the south-west of Poland, the train station in the city of Przemysl sees thousands of Ukrainians passing by every day. After a long, perilous and exhausting journey, it is the first refuge for these civilians who have fled the fighting. When they arrive, many explain to us that they have not slept for several days. Fear kept them awake.
"Four times they turned off the lights, we lay on the ground because our lives were in danger"says Anastasiya, a 16-year-old girl from Kyiv.
"People were so terrified"
Yulia, she also made the trip from the Ukrainian capital: "we heard the bombs, it was far away, but we heard them and we couldn't sleep all night and early in the morning we fled to western Ukraine. There was a lot of traffic. People were so terrified. Many are still there. It's a tragedy".
"A train from Ukraine arrives at the station in this border town every five hours. Here crowds of volunteers gather to offer to drive people through Poland. They also offer food and accommodation", explains our reporter Monica Pinna.
This couple is coming here for the second time. They offer Ukrainians who have just arrived to transport them to their hometown, Krakow. It's an eight hour drive there and back.
Outpouring of solidarity throughout Poland
"Some live in small apartments, with just two bedrooms but they share", explains this woman, "they are going to live in one room and they give the second to a Ukrainian family."
The city's mayor says trains from Ukraine can carry up to 2,500 people. A challenge that the population and the authorities say they are ready to face.
"Every city in Poland has emergency plans to deal with this situation, plans for these mass displacements. So we welcome these people, we give them water, food, we give them some time to rest, and we send them all to other cities", says the mayor of Przemysl, Wojciech Bakun.
Many Ukrainians wish to join friends or relatives already living in Poland or in other countries of the European Union. They fear having to wait a long time before they can return home.