News
Faced with French parliamentarians, Volodymyr Zelensky calls for new sanctions against Moscow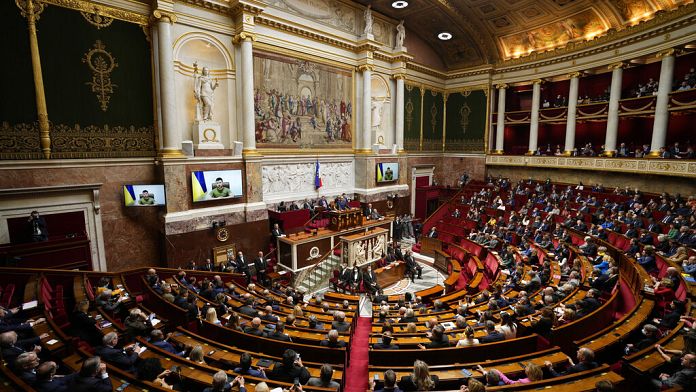 Europe reaffirmed on Wednesday its support for Ukraine in the face of Vladimir Putin's Russia, which has become, in the words of Ursula von der Leyen, "the worst enemy of the Russian people", hit by economic sanctions.
EU prepares new sanctions against Moscow
The 27 are expected to announce new sanctions against Moscow on Thursday. Objective: to reinforce the pressure on the master of the Kremlin so that he ends the war in Ukraine.
"Together with our international partners, we have imposed the heaviest sanctions we have ever adopted. They have hit the financial system, crippled key economic sectors and hurt regime supporters. We are ready to do more to starve the machine of Putin's war, declared the President of the European Council Charles Michel_.
_
Volodymyr Zelensky facing French parliamentarians
A little earlier, the Ukrainian president had continued his tour of the European parliaments, this time addressing the French deputies and senators, meeting in extraordinary session.
Volodymyr Zelensky calls on France to do everything to help stop this war by adopting new sanctions against Russia:
"Every week we need a new set of sanctions. French companies – Renault, Auchan, Leroy Merlin and others – must leave the Russian market, they must stop sponsoring the Russian war machine."
Vladimir Putin responds to sanctions
In Moscow, Vladimir Putin announced on Wednesday that Russia would no longer accept payments in dollars or euros for gas deliveries to the European Union.
The Russian president intends to respond to the sanctions by targeting Western currencies in turn: "A number of Western countries have taken illegitimate decisions on the so-called freezing of Russian assets. They have effectively drawn a line under the reliability and trust of their currencies."
Vladimir Putin who has just been let go by one of his advisers: Anatoly Chubais, the architect of economic reforms in post-Soviet Russia, resigned from his post as special envoy to the Kremlin and left the country due to of the war in Ukraine.