News
Explosion of an oil depot in Russia, payment for gas in rubles. Follow our live.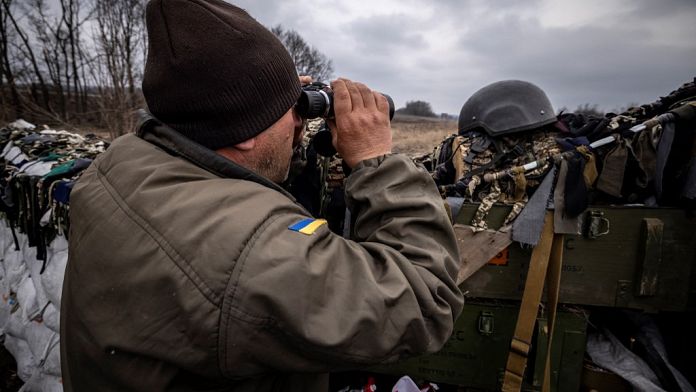 Update at 7 a.m.
The Pentagon expects a "prolonged" conflict
The refocusing of the Russian war effort on Donbass in eastern Ukraine, where Russian forces will face a hardened Ukrainian army, portends a "protracted" conflict, which could last for months, warns the Pentagon.
"If in fact they give priority to the Donbass region, (…) a region where they have not fought for eight years, a region where there are a lot of Ukrainian soldiers, who are very active, that could last a while"Pentagon spokesman John Kirby told reporters.
Biden 'skeptical' of partial Russian troop withdrawal
US President Joe Biden said Thursday he was "skeptical" of Russia's announcements of a partial withdrawal of its troops to focus the offensive in Ukraine on the Donbass region (east).
He also felt that Vladimir Putin "seemed to isolate himself", and said he had "indications that (the Russian president) has dismissed or placed under house arrest some of his advisers"while saying that they do not have "irrefutable proof".
French Foreign Minister Jean-Yves Le Drian also argued that Russian forces in Ukraine show "no concrete element" of retreat or disengagement despite recent statements from the Kremlin.
NATO expects offensives
Russian forces "are not withdrawing, but repositioning" in Ukraine and NATO expects "additional offensives" from Moscow, said Alliance Secretary General Jens Stoltenberg.
According to him, Russia "is trying to strengthen its offensive on the Donbass region" and "maintains pressure on kyiv and other cities".
Russian withdrawal from Chernobyl
Russian troops have left the Chernobyl power plant, which they have occupied since the start of the invasion of Ukraine on February 24, taking hostages, Ukrainian authorities announced Thursday evening.
Gas: Putin imposes payment in rubles
From April 1, buyers of Russian gas from "unfriendly" countries will have to have accounts in rubles, otherwise Russia will not deliver them, President Putin announced on Thursday.
Germany and France are "preparing" for a potential stoppage of Russian gas imports, the Europeans refusing the payment in rubles demanded by Moscow, reacted the French Minister of Economy Bruno Le Maire.
European countries will continue to pay for Russian gas in euros and dollars as it is "written in the contracts", assured German Chancellor Olaf Scholz.
Truce announced in Mariupol
The Ukrainian government was to send 45 buses on Thursday to evacuate civilians from the besieged port of Mariupol (southeast), after Moscow announced a truce to allow their departure. Seventeen buses have already left for Mariupol, according to kyiv.
"The Russian armed forces will reopen a humanitarian corridor from Mariupol to Zaporozhye (220 km northwest) on April 1 from 10:00 a.m. Moscow time"or 0700 GMT, the Russian Defense Ministry said.
The International Committee of the Red Cross (ICRC) said it was ready "to direct" from Friday these evacuation operations in the direction of the city of Zaporozhye, 220 km to the northwest, on condition of having the necessary guarantees.
Depardieu denounces "the crazy unacceptable excesses" of Putin
French actor Gérard Depardieu, who had praised Vladimir Putin in the past, denounced "crazy unacceptable excesses" of the Russian leader, announcing that all of the proceeds from his concerts scheduled for the beginning of April in a French theater "will go to the Ukrainian victims".