News
Execution maligned in the US: a painful lethal cocktail used in Oklahoma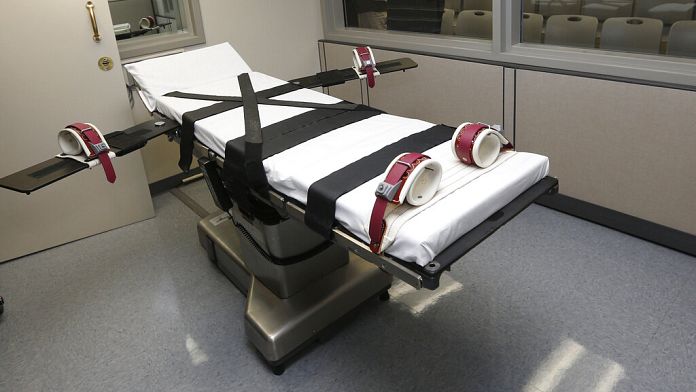 Oklahoma has executed a man who stabbed to death a cafeteria worker at a prison where he was serving time for armed robbery in 1998.
John Grant, 60, ended his days in this room, strapped up, shaken by about twenty convulsions and vomiting.
Prison authorities are suspected of using a mixture of products that causes suffering, which is contrary to the US constitution. This lethal protocol had already been applied twice but the apparent pain of the detainees had led the state to suspend executions for 6 years.
John Grant was sentenced to death in 2000 for the 1998 murder.
After receiving the green light from the Supreme Court of the United States, the prison authorities of this conservative southern state injected him with three substances and his death was pronounced at 16:21 (21:21 GMT).
John Grant "began to convulse shortly after the injection of the first product" said a journalist from the American agency AP, Sean Murphy, who attended the scene. According to him, he convulsed about twenty times and vomited several times before passing out.
"The execution of Prisoner Grant was carried out in accordance with Oklahoma Corrections protocols and without complication", defended himself in a statement Justin Wolf, the director of communication of the prison services.
The latter had claimed a few days ago that their protocol was "humane and effective" and that executions could resume.
However, counsel Dale Baich stressed that "serious questions remain" about the pain caused by this lethal cocktail and its compliance with the US constitution that prohibits "cruel and unusual punishment".
On Wednesday, an appeals court ruled in his favour and suspended the execution. But Oklahoma authorities immediately appealed to the U.S. Supreme Court to overturn the decision.
Without explaining its reasons, the high court finally gave in extremis its green light to the execution. Its three progressive judges, however, made it clear that they did not agree with the Conservative majority.
Unprecedented
The contested protocol combines a sedative, midazolam, and an anesthetic, believed to prevent pain before the lethal dose potassium chloride injection.
It had been used in 2014 to execute Clayton Lockett, but the convict had agonized for 43 minutes in apparent pain.
In 2015, another convict, Charles Warner, complained that his "body was burning" before it was extinguished, as the executioners had used a non-compliant product. The same error was almost repeated in September 2015 and an execution was postponed in extremis.
As a result of these failures, a grand jury opened an investigation and the authorities agreed to suspend the application of the death penalty.
In 2020, they finalized a new protocol and set several execution dates in 2021, starting with that of John Grant.
Oklahoma also plans to execute on November 18 Julius Jones, a 41-year-old African-American who was sentenced to death in 2002 for the murder of a white businessman he has always denied.
Source link