[ad_1]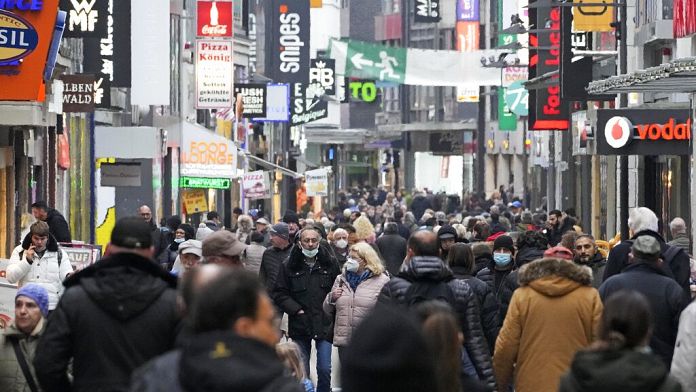 Eurozone inflation hit a record high in November at 4.9% year on year, still propelled by steadily rising energy prices, beyond analysts' forecasts.
Eurostat had never recorded such an inflation figure since the start of its estimates, more than twenty years ago, according to a spokesperson contacted by AFP on Tuesday, after the publication of this first monthly estimate.
In October, the inflation rate in the 19 countries that adopted the single currency had already jumped to 4.1% year-on-year, the highest since July 2008.
The increase to 4.9% this month exceeded the expectations of analysts who expected an average of 4.5%.
This upward trend is expected to last for several more months, commented Jack Allen-Reynolds of Capital Economics, noting that the "core inflation"- excluding energy, food, alcohol and tobacco – hit a record 2.6%.
Since June, inflation has increased every month in the euro zone: it had reached 3% in August, still year-on-year, before climbing to 3.4% in September.
Once again, consumer prices were propelled by soaring energy costs.
"Energy is expected to experience the highest annual rate in November (+ 27.4%, compared to 23.7% in October)", Eurostat said in a press release on Tuesday.
Among the other components of inflation in the euro zone are cited the services sector (2.7%, compared to 2.1% in October), that of industrial goods excluding energy (+ 2.4%, compared to 2, 0% in October) then food, alcohol and tobacco (2.2%, after 1.9% in October).
– "Peak in November" –
In Germany, the euro zone's largest economy, inflation peaked at more than 5% in November over one year (5.2% after 4.5% in October), according to thenational statistics office Destatis.
The harmonized price index, which serves as a benchmark at European level, posted an increase of 6% over one year, atomizing the European Central Bank's (ECB) objective of inflation at 2% in the euro area. .
According to Eurostat figures, the inflation rate over one year, particularly high in the three Baltic countries (at 7.4% or above), is also higher than the euro area average in Belgium ( 7.1%), Spain (5.6%) and the Netherlands (5.6%). In France and Italy, it is posted, again for November, at 3.4% and 4.0% respectively.
"Looking ahead, the Omicron variant (of the coronavirus) is expected to have a mixed impact on inflation", says Allen-Reynolds.
"Oil prices will fall, reducing energy inflation, but if the variant exacerbates global imbalances between supply and demand, goods inflation could be higher for longer", added the economist.
The BCE, like other central banks, is currently facing a dilemma: how to contain accelerating inflation without stifling sluggish growth?
Its president Christine Lagarde hinted this weekend that the time for intervention had not yet come, even if the current surge in inflation is more durable than expected.
According to his explanations in a German newspaper, economic activity suffers from a "inflation largely driven by supply constraints and energy prices", in other words areas where the ECB is powerless to act. These effects should fade next year, resulting in a further slowdown in prices.
In Germany, "the peak of inflation will be reached in November", Isabel Schnabel, member of the ECB's executive board, said on Monday.
[ad_2]

Source link