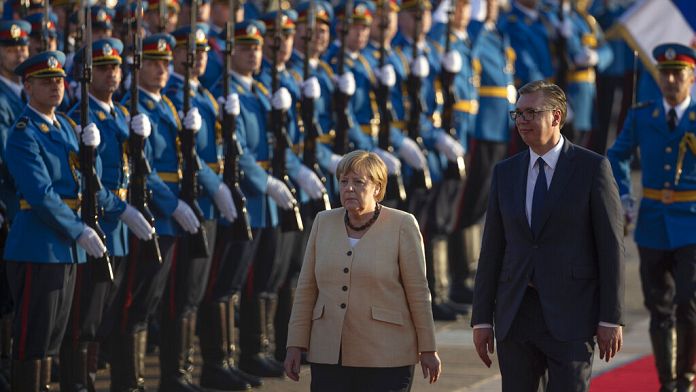 In Serbia on Monday, in Albania this day for one of her last trips abroad before leaving the German chancellery, Angela Merkel pleaded for the integration of the Balkans within the European Union. It is in the EU's interest, she says, in the face of the growing influence of other powers such as Russia and China in the region :
"We Europeans, who are already members of the European Union, should always bear in mind that there is an absolute geostrategic interest for us in actually accepting these countries into the European Union. We can see that there are setbacks and that there is also the influence of many other parts of the world (in the Western Balkans, editor's note)_._"
Angela Merkel urged Serbia to "new steps towards the rule of law, democracy, plurality of society" and to find a negotiated solution with Kosovo.
After Belgrade, Angela Merkel is due to meet today in Tirana with the leaders of six countries of the zone, Albania, Bosnia, Montenegro, North Macedonia, Kosovo and Serbia, which are at various stages of the process of rapprochement with the Europeans.
Serbia and Montenegro opened accession negotiations years ago. In March 2020, the European Union gave the green light to open negotiations with North Macedonia and Albania, but these have not started. Bosnia and Kosovo do not yet have candidate status.
Merkel also called for more progress in building a common economic market in the Balkans, a process initiated by Serbia, Albania and North Macedonia.
Slovenia, which holds the rotating presidency of the European Union, is preparing a summit with the countries of the region for October, with the aim of relaunching enlargement.