News
Eruption in the Canary Islands: La Palma airport reopens but flights remain suspended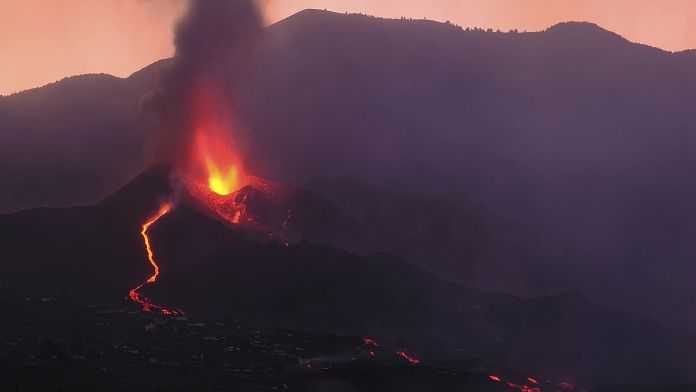 In La Palma, the Cumbre Vieja continues to pour on the Spanish island its lava flows,but the situation seems to improve this Sunday in the Canary Islands"**. Twenty-four hours after being brought to a standstill due to the ash released by the volcano, La Palma airport has reopened even though connections remain suspended by airlines waiting for better flight conditions.**
"La Palma airport is operational again, "announced on Twitter the Spanish airports management company (Aena), specifying that this reopening was made possible by the" ash cleaning " work carried out during the night.
Flights can therefore resume, "with the prior agreement" of the air traffic control authorities, added the Aena, nevertheless advising travelers to consult their airline in order to learn about their flight before going there.
On Sunday afternoon, flights to and from La Palma remained suspended, pending an improvement in the situation.
More than 6,000 evacuations
Authorities on Sunday also allowed some evacuated residents to collect their belongings and by Saturday nearly 200 had even been able to return home.
Over the past week, the wrath of Cumbre Vieja has already forced more than 6,000 of the island's 85,000 inhabitants from their homes.
This eruption, the first since 1971 on the island, has not yet caused any casualties, according to the authorities, but it has caused immense damage.
"The ash fall affects the municipalities close" to the volcano but also other municipalities that are located "on the east side of the island", detailed Sunday during a press conference the technical director of the Volcanic Emergency Plan of the Canary Islands (Pevolca), Miguel Ángel Morcuende. "All this does not affect the air quality in the inhabited area of the island. The air quality is still good, " he nevertheless insisted.
Ravaged plantations
According to the latest data from the European geospatial measurement system Copernicus, lava destroyed 461 buildings from the eruption – or 41 more buildings in 24 hours. The ash, meanwhile, has affected at this stage 1,314 hectares of land, according to Copernicus, covering more than 200 hectares, of banana plantations, the main economic activity of the fifth Canary island
Source link