News
Energy, transport, agriculture, health… Emmanuel Macron's plan for tomorrow's France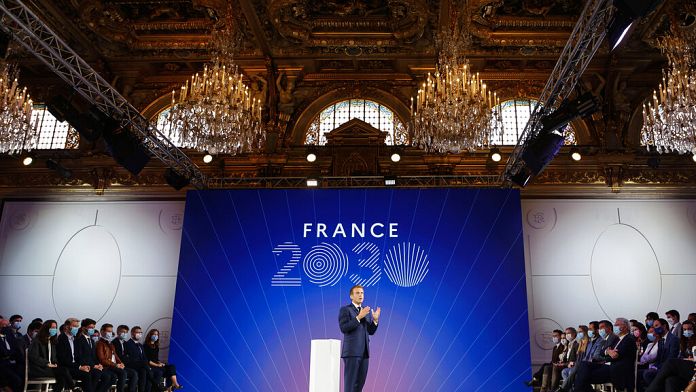 A parade of ministers took place this Tuesday at the Élysée to attend the grand oral of Emmanuel Macron on the France of tomorrow.
Ensuring France"s independence
Six months before the presidential election, the head of state intends to silence criticism of the French decline. He presented an extensive investment plan of 30 billion euros to develop industrial competitiveness and future technologies in France within the next ten years in order to meet greenhouse gas reduction targets and face stiff competition from the United States and China.
For Emmanuel Macron, it is about the independence of France and Europe :
"I would say that the objective of France by 2030 must be this: to produce better, live better, understand the world better by serving a French and European humanism that is the heart of our message, our promise and what we still have to do tomorrow. And so, by building the ways and means to do it, by being more independent as a French and a European, because if we somehow delegate the means to better feed ourselves, to better understand the world or whatever, it will be the preferences of other collective powers that will do it"
Rethinking nuclear power
First pillar of this 30 billion euro investment plan, decarbonised energy and transport. Emmanuel Macron wants to bet on disruptive technologies in the nuclear field, by bringing out small modular reactors.
The small modular reactors called SMR ("small modular reactors"), are "much more modular and much safer", he argued, at a time when the future of EPR, large reactors of new generation, is suspended.
Green hydrogen and electric vehicles
He also wants to make France the leader in green hydrogen, transport, but not only. In particular, the steel, cement and chemical industries need green hydrogen to replace fossil fuels.
The plan also aims to produce nearly 2 million electric and hybrid vehicles within ten years.
On the air, France will "invest massively" to produce the "first low carbon aircraft", a project initially French but that Emmanuel Macron wants to "Europeanize as much as possible."
Developing tomorrow's agriculture
Emmanuel Macron wants to invest 2 billion euros in "disruptive" innovations in agriculture, especially in robotics, digital and genetics. The objective is to "continue to produce to feed ourselves", improving the "quality of food" and "competitiveness", while "reducing CO2 emissions".
More specifically, these investments must make it possible to "decarbonize agricultural production", "get rid of certain pesticides", "improve productivity" and develop "more resilient and solid productions in bio-solutions".
Biomedicines
France will also devote 3 billion euros to the health sector.
The country must set itself the goal of having by 2030 "at least 20 biomedicines against cancers, emerging diseases and chronic diseases including those related to age", said the president. It must also create the "medical devices of tomorrow".
Biomedicines include a wide variety of therapies (products for cell therapy, gene therapy, hormones). They are produced from the living, unlike more conventional chemically manufactured drugs, which makes their production more complex and expensive.
Doubling electronic production
Emmanuel Macron announced "nearly 6 billion euros" of investments to "double" France's electronic production by 2030 and "secure" its chip supply.
Global demand for electronic components has skyrocketed since the start of the pandemic, between the rise of telecommuting and leisure at home.
Essential in everyday objects such as household appliances or mobile phones, semiconductors are the subject of a global shortage and Europe is increasingly dependent on Chinese or American imports in this strategic market.
Exploration of the seabed
Emmanuel Macron said Tuesday that deep-sea exploration was among the priorities of the investment plan "France 2030" not to "leave in the unknown an important part of the globe".
This exploration is "an extraordinary lever of understanding the living, access to certain rare metals, understanding the functioning of new innovation ecosystems", especially in terms of health, explained the Head of State, specifying that he spoke of "exploration" and not "exploitation" and that France was well placed because it has the second maritime space in the world.
With AFP
Source link